CONNECTING MORNINGSIDE
From full ensemble offerings in choral and instrumental music to theatre and musical theatre productions, there is a place for you in the performing arts at Morningside. Learn alongside world-class musicians and music educators who make up our incredible Performing Arts faculty in small, close-knit courses and class cohorts. Want to see the world? Morningside ensembles regularly tour regionally, nationally and internationally, with plans to tour in South Africa in 2024.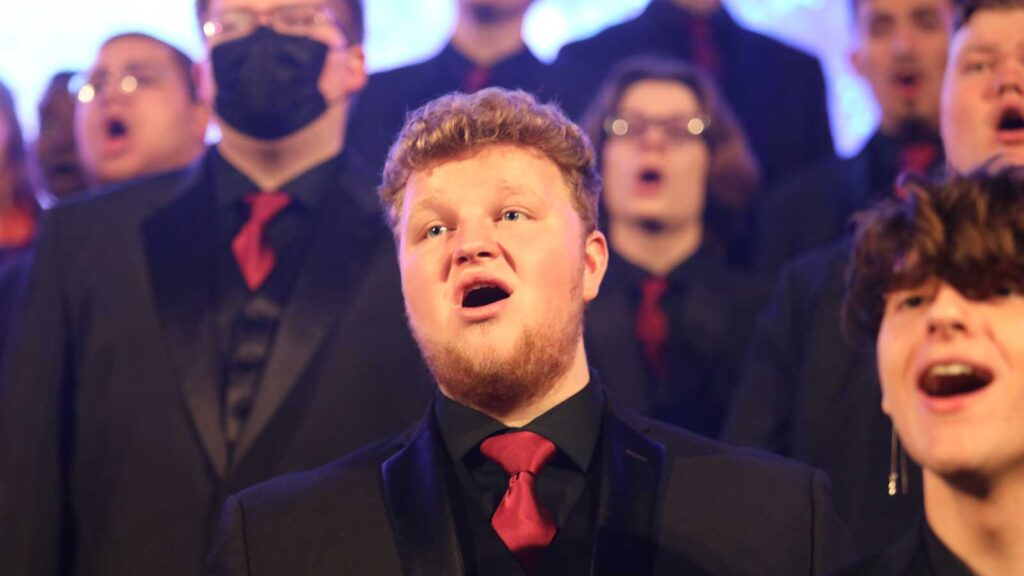 PERFORMING OPPORTUNITIES
Choral music has been a very important part of student life at Morningside for nearly 100 years, providing students from all major academic disciplines with rich occasions for musical and personal expression. Morningside's four choral ensembles offer exceptional performance opportunities and support a strong sense of community between students and faculty.
Morningside University offers a wide array of instrumental opportunities for students, ranging from small groups to participation in full band ensembles. As a fixture at Morningside athletic events, Christmas at Morningside, and many other performances throughout the year, our instrumental programs are an important part of campus life.
Our theatre program has been highly regarded in recent years for producing well written, designed, and directed productions. Many of these productions have been student-written and directed, as well as being nominated for awards in acting, lighting, and set design. Students from all majors are welcome to take part!
TALENT GRANTS*
Receive a talent grant for participating in an activity you love.
*You can only earn one talent grant, you must continue your participation in the activity, and you will need to visit campus to audition or meet coaches in order to qualify.
Festivals & Workshops
Morningside is home to many different festivals and workshops that offer young, aspiring students to learn from those who study, teach, and perform. Vocal and instrumental festivals allow high school students the chance to participate in high-caliber performances, and workshops offer the chance and teachings necessary to master the craft.
EXCELLENCE IN PERFORMANCE
Christmas at Morningside is one of the most beloved on-campus music events of the year. A tradition that began in 1995, the performance attracts spectators from across the Midwest and is a crowning event for our university.
Nominate an alum or former faculty member of the Morningside University Visual and Performing Arts CODA (Culmination of Outstanding and Distinguished Achievement) Award.
The Morningside Symphonic Chorus is a community choir open to anyone who wants to sing in a choral ensemble and perform incredible works of music by new and historic composers.
SCHOOL OF VISUAL & PERFORMING ARTS
The Morningside University School of Visual and Performing Arts provides immersive opportunities for Morningside students and the Siouxland community to experience the power of music and the fine arts. All Morningside students, regardless of major, can audition and perform in ensembles and productions.