CHORAL MUSIC AT MORNINGSIDE
DISCOVER THE POWER OF CHORAL MUSIC
Choral music has been a very important part of student life at Morningside for nearly 100 years, providing students from all major academic disciplines with rich occasions for musical and personal expression.
The choral music program maintains a strong regional, national, and international presence through annual touring. In addition, yearly participation-based choral music scholarships are available to students from all areas of study.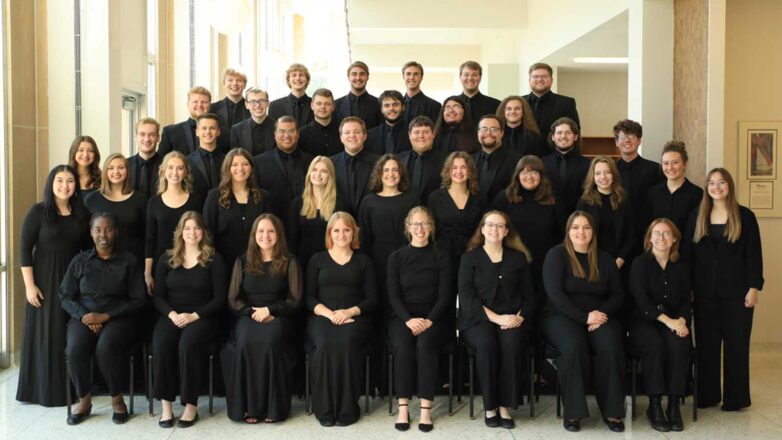 CHORAL MUSIC OPTIONS
The Morningside Choir, the university's premier forty-five-member choral ensemble, has been acclaimed for its outstanding musical artistry since 1925. Under the direction of Dr. Ryan Person since 2018, the choir consists of undergraduate student musicians from various major areas of study and are among the university's finest leaders and scholars.
Presenting a diverse array of choral repertoire, the ensemble has been nationally and internationally recognized for its performance excellence. In 2023, the choir was selected to perform as a demonstration choir at the ACDA National Conference in Cincinnati, Ohio, and also recognized as a finalist for The American Prize for College/University Choirs. The ensemble has been selected to perform at the Midwestern ACDA Conference in Omaha, Nebraska, and South Dakota Music Educators Conference in Rapid City, South Dakota, in 2024.
An active touring ensemble, the choir traveled to Germany, Austria, and the Czech Republic in 2022, where they notably performed for a sold-out audience at the Antonín Dvorák Music Festival in Príbram, Czech Republic, with famed composer's great-grandson, Petr, in attendance. The ensemble has also recently traveled to Japan (2018), Spain (2015), and Italy (2012), and will tour South Africa in May 2024. Recent notable performance locations have included the Salzburg Cathedral, Melk Abbey, Guggenheim in Bilbao, Spain, and Kansai Gaidai Concert Hall in Japan.
The Morningside Choir rehearses on MTWTh from 3:30-4:50 p.m., and prospective students are welcome and encouraged to attend.
Cantabile is a treble choir comprised of students from all areas of study at Morningside. The ensemble is dedicated to the performance of challenging choral music and high musical artistry.
Members perform in at least two concerts each semester, including the annual production of Christmas at Morningside, and serve as ambassadors for choral music throughout the local area. In addition, the choir frequently combines with Camerata to perform mixed choral literature each semester.
Camerata is a convivial tenor-bass ensemble with students from all areas of study and co-curricular activities, including athletics and other performing arts organizations.
The choir presents at least two concerts per semester, including the annual production of Christmas at Morningside, and represents Morningside in the community by performing at various civic and college-related events. In addition, the group frequently combines with Cantabile to perform mixed choral literature each semester.
Morningside's Lyric Theatre is open to all students, regardless of major, and offers you the option to perform or work on a musical or opera production. Recent productions include "Next to Normal," "Quilters," "Into the Woods," and our acclaimed production of "Dido and Aeneas."
The Lyric Theatre allows you to expand your understanding and passion for the choral world, as well as improving your acting, performing, and production skills. Become involved in our newest choral creation!
The Morningside Symphonic Chorus (previously known as the Master Chorale) is a community choir open to anyone who wants to sing in a choral ensemble and perform incredible works of music by new and historic composers.
All are welcome to sing in the chorus, which will include new members, Morningside University students, local music educators and musicians, and former Master Chorale members. You do not need to be affiliated with Morningside or have an extensive musical background to be part of the choir – the Morningside Symphonic Chorus is for any Siouxlander who wants to learn and share music with our community.
MEET THE DIRECTOR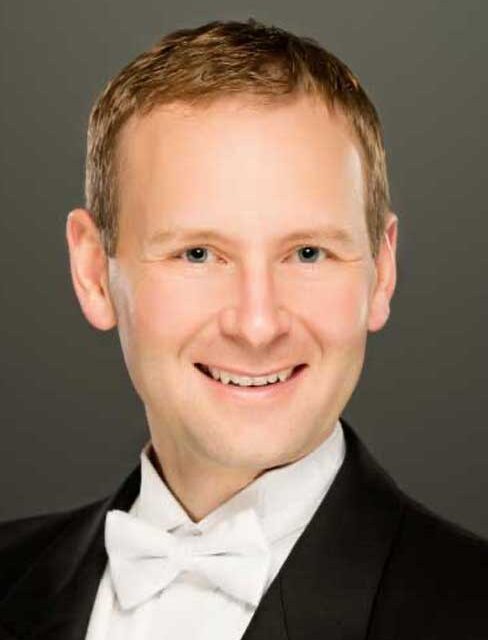 Ryan Person
Director of Choral Activities
Performing Arts
Morningside provides rich musical experiences for music and non-music majors in a warm, inviting atmosphere. We offer top-notch performance and travel opportunities to our excellent student musicians.
Ryan's Profile
EXCELLENCE IN PERFORMANCE
Christmas at Morningside is one of the most beloved on-campus music events of the year. A tradition that began in 1995, the performance attracts spectators from across the Midwest and is a crowning event for our university.
Nominate an alum or former faculty member of the Morningside University Visual and Performing Arts CODA (Culmination of Outstanding and Distinguished Achievement) Award.
Leo Kucinski Academy of Music
The Leo Kucinski Academy of Music is affiliated with the Morningside University School of Visual and Performing Arts. This program provides a youth symphony to students aged five through adult, as well as an early strings class. This academy is also open to Morningside students to allow for hand-on experience through practicums and teaching.
THE ARTS AT MORNINGSIDE
SCHOOL OF VISUAL & PERFORMING ARTS
The Morningside University School of Visual and Performing Arts provides immersive opportunities for Morningside students and the Siouxland community to experience the power of music and the fine arts. All Morningside students, regardless of major, can audition and perform in ensembles and productions.