INSTRUMENTAL MUSIC AT MORNINGSIDE
DISCOVER THE POWER OF INSTRUMENTAL MUSIC
Morningside University offers a wide array of instrumental opportunities for students, ranging from small groups to participation in full band ensembles. As a fixture at Morningside athletic events, Christmas at Morningside, and many other performances throughout the year, our instrumental programs are an important part of campus life.
Ensembles are open to any student, regardless of major. You have the opportunity to be apart of a tradition that began over 100 years ago with the opening of the Conservatory of Music. Scholarships are also available upon audition!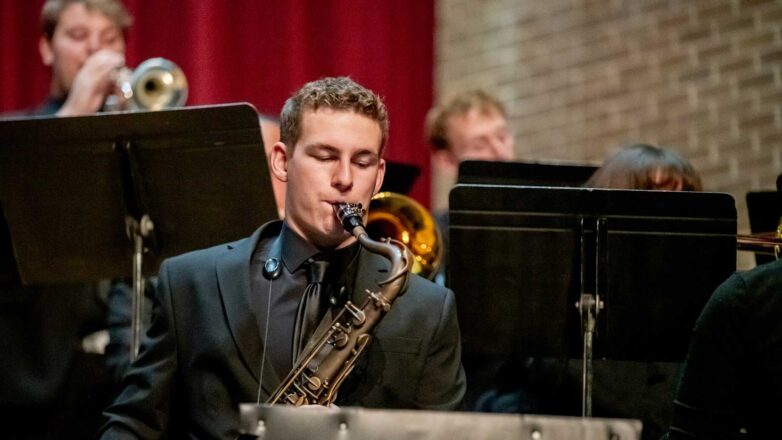 INSTRUMENTAL OPTIONS
The Symphonic Wind Ensemble performs music written for winds and percussion. Previous band experience is recommended for membership, and students must audition at the beginning of each semester to determine seating placements and soloists. All students enrolled with the Symphonic Wind Ensemble also perform with the Marching Mustangs.
The Symphonic Wind ensemble performs in regular concerts throughout the year, including in the annual performance of Christmas at Morningside. This ensemble also tours regionally in the spring performing at high schools and other events.
The Jazz Ensemble is an audition-only music group that performs various jazz styles through the use of big band and combos. As a member of this ensemble, you will rehearse two days per week in the fall and spring semesters.
This ensemble also performs at regular concerts throughout the academic year and has been known to compete at competitions throughout the Midwest.
The Marching Mustangs and Color Guard is Morningside's high energy marching band and guard that welcomes all students, though previous membership in band is recommended. Winds, color guard, pit and marching percussion, synthesizers, and bass guitar are some of the Marching Mustangs' key components.
This ensemble performs at home football games with drum corps style halftime performances. This group has also traveled with the football team to National Championships games, most recently to Daytona, Florida for the 2018 NAIA National Championship game.
The Fever is Morningside's pep bad that is responsible for performing at men's and women's home basketball games. In addition to traditional pep band instrumentation, Fever also uses electric bass and drum set.
Membership is determined by audition, but is open to any student regardless of their major. Rehearsals usually start in November in preparation for regular and postseason performances.
This ensemble consists of college string, wind, brass and percussion players, as well as top high school instrumentalists in the area. Students also may be offered paid positions in the Sioux City Symphony Orchestra, providing valuable professional work experience and additional income.
Morningside's chamber ensembles offer you a unique opportunity to perform and explore literature for your respective instrument. Morningside currently offers Brass Quintet, Brass Choir, Woodwind Ensemble, Flute Choir, Trombone Choir, and Percussion Ensemble.
Membership in these ensembles is determined through audition and/or invitation by the ensemble's director. Each ensemble holds its own rehearsal schedule, but students are normally expected to commit two hours a week.
MEET THE DIRECTORS
EXCELLENCE IN PERFORMANCE
Christmas at Morningside is one of the most beloved on-campus music events of the year. A tradition that began in 1995, the performance attracts spectators from across the Midwest and is a crowning event for our university.
Nominate an alum or former faculty member of the Morningside University Visual and Performing Arts CODA (Culmination of Outstanding and Distinguished Achievement) Award.
Leo Kucinski Academy of Music
The Leo Kucinski Academy of Music is affiliated with the Morningside University School of Visual and Performing Arts. This program provides a youth symphony to students aged five through adult, as well as an early strings class. This academy is also open to Morningside students to allow for hand-on experience through practicums and teaching.
THE ARTS AT MORNINGSIDE
SCHOOL OF VISUAL & PERFORMING ARTS
The Morningside University School of Visual and Performing Arts provides immersive opportunities for Morningside students and the Siouxland community to experience the power of music and the fine arts. All Morningside students, regardless of major, can audition and perform in ensembles and productions.