PROGRAM OVERVIEW
Morningside's location in Sioux City and the tri-state region places us in the heart of one of the most productive agricultural regions in the world. Both our Siouxland location and the number of businesses in the area with ties to agriculture have made the Morningside University Regina Roth Agricultural and Food Studies department a critical regional resource. This program pairs agricultural science classes with communications courses to prepare students to advocate for agriculture and address complex issues to the public.
A Great Fit For
Those wishing to develop a broad understanding of the agriculture industry with access to unique opportunities in Sioux City, the state of Iowa, and beyond.
 Preparing you for a wide range of career opportunities.
Gaining real-world experiences through interaction with business and industry professionals, clubs and organizations, travel opportunities, externships, and more.
Developing leadership skills through co-curricular activities and research opportunities.
Enjoying the opportunities and advantages of being a student at a small private college that allows you to immerse yourself in your education and get involved in unique experiences more quickly.
THE MORNINGSIDE DIFFERENCE
Hands on Learning Environment
You'll have access to our 3,300 square-foot state-of-the-art greenhouse, Lags Farm, the campus garden, and more to give you hands on experience outside the classroom preparing you for success.
Externship Program
Our externship program allows you to participate in a paid, semester-long externship in Sioux City, greater Iowa or beyond and work side-by-side with management and production teams doing real agriculture in the real world.
Career Opportunities
Morningside graduates of the agriculture and food studies program have gone ton to careers at Tyson Foods, Palmer Candy Company, U.S. Department of Agriculture, Farm Credit Administration, and more.
FEATURED COURSES
REQUIRED COURSE
This course applies soil, crop, economic and environmental sciences to row and forage crop production cycles in the Midwest to investigate crop system responses to management decision-making.
REQUIRED COURSE
An introduction to soils as they relate to function, land use, plant growth, environmental quality and society. Participants will discover how chemical and biological processes in the soil impact the productivity, health and sustainability of the ecosystem.
REQUIRED COURSE
This course studies management of common agricultural pests by analyzing the interactions between pest biology, system ecology, management options, and resistance management. Proper pest identification is stressed. Successful participants leave the course prepared to sit for the Iowa Commercial Pesticide Applicator's Exam.
REQUIRED COURSE
This course introduces concepts and principles of plant mineral nutrition that provides a basis for solving practical nutritional issues in common agriculture crop production systems. Areas covered include mineral nutrition, soil-nutrient interactions, soil fertility evaluations, nutrient management, nutrient economics and environmental quality.
LEARN BY DOING
REGINA ROTH APPLIED AG & FOOD STUDIES
As a Regina Roth Agricultural and Food Studies student, you'll learn how different agricultural production and business systems affect crop yield, farm profitability, soil health, and models of long-term sustainability. You'll also have access to our state-of-the-art facilities giving you hands-on experience for the real world.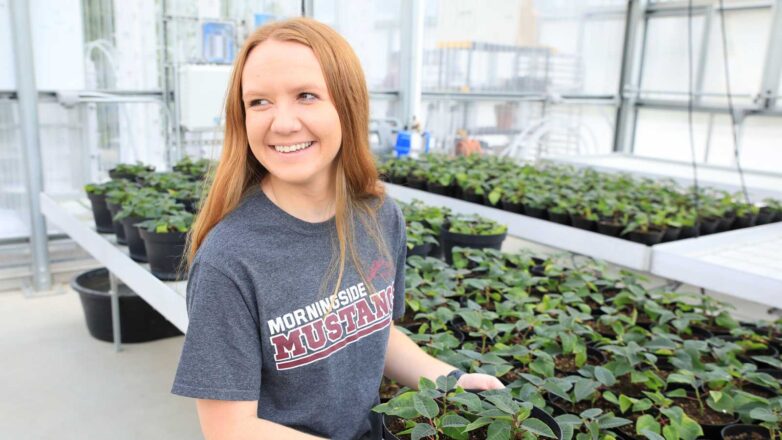 RELATED MAJORS & MINORS
Still looking for the right fit? Here are some additional program options that we think might interest you or are often paired with this program. You can also view the programs page to keep exploring your options.
Applied Ag & Food Studies
WHY STUDY AT MORNINGSIDE?
13:1
student/faculty ratio so you're assured a quality education focused on you
99%
employed or in graduate school within six months of graduation
65+
majors & pre-professional programs available
Contact Us
Our admissions team is eager to answer your questions about this program and how to apply.