PROGRAM OVERVIEW
The Professional Flight program is designed for individuals who wish to obtain a bachelor's degree while earning pilot ratings to work as a professional pilot eventually. You will spend a significant amount of time immersed in the technical aspects of aviation while earning your Federal Aviation Administration (FAA) ratings through flight training. Flight training will take place at Morningside's state-of-the-art facility at the Sioux Gateway Airport, located in Iowa and just across the border from Nebraska and South Dakota. Construction on the facility is expected to be completed in 2023. Morningside is also currently going through the process of being certified by the FAA as a Part 141 program to provide pilot ratings. This program is offered along with our Aviation Management program in the School of Aviation.
Degrees
Professional Flight BA
Major
Professional Flight BS
Major
A Great Fit For
Those with an interest in becoming a pilot for a commercial, private, or government entity.
Individuals interested in a high-demand career field with job opportunities around the world.
People looking for opportunities to travel around the globe.
Anyone with attention to detail, situational awareness, excellent communication skills, and self-confidence.
THE MORNINGSIDE DIFFERENCE
Regional Partnerships
We have partnered with Oracle Aviation out of Omaha, NE and the Sioux City Gateway Airport to ensure you'll receive hands on experiences.
Externship Program
Our externship program allows you to participate in a paid, semester-long externship in Sioux City, greater Iowa or beyond and work side-by-side with management and production teams doing real agriculture in the real world.
Experts in the Field
Our aviation program has brought in experts throughout the industry to help develop the curriculum that prepares you to face the challenges facing the industry.
FEATURED COURSES
Individuals interested in the Professional Flight program must apply and be accepted to Morningside University.
Acceptance to Morningside does not guarantee admission to the Professional Flight Program.
To be accepted to the Professional Flight program, you must

Read, write, speak, and understand the English language.
Be at least 16 years of age at the time of your first solo flight, and at least 17 years old at the time of initial pilot certification.
Pass an FAA-approved flight physical.
Participate in the TSA screen program.
You may earn a Bachelor of Science degree in Aviation – Professional Flight from Morningside University. It may be possible to add an additional major or minor depending on your interests. Your academic advisors can assist you in finding the path that best works for you.
Major
Aviation – Professional Flight
VIEW FOUR YEAR GRADUATION PLAN: BA
You may frequently interact with professionals throughout the industry developing relationships and building skills. Opportunities include:
Industry-leading speakers
Club meetings and college-wide seminars
Interviews
Internships
Travel to conferences
Salary: The median annual salary for commercial airline pilots is around $115,000/year. Entry-level pilots at regional airlines can expect to earn around $65,000/year.
Ample Jobs: The aviation industry is experiencing a pilot shortage due to a high number of pilots retiring, which makes jobs plentiful.
Travel Opportunities: In addition to traveling as part of your work, many airlines offer generous air travel discounts for pilots and their families.
Great Variety: Pilots are in demand not only for commercial airlines, but within a variety of private and public companies and in many different settings.
LEARN BY DOING
MORNINGSIDE AVIATION DEPARTMENT
In partnership with Oracle Aviation and the City of Sioux City, students in aviation will have access to a state-of-the-art facility located at the Sioux City Gateway Airport.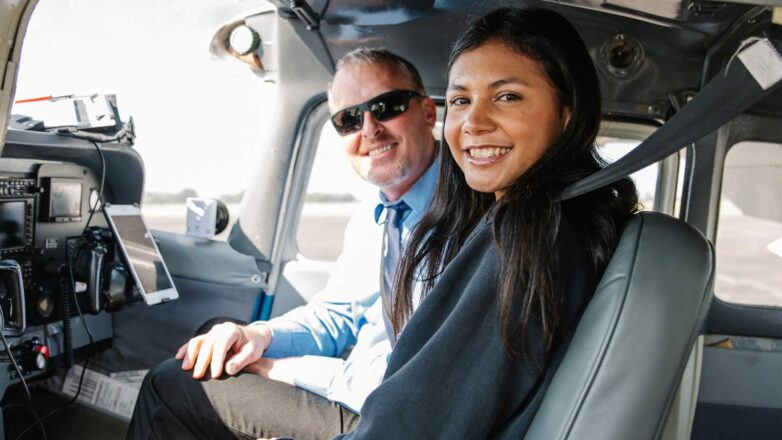 RELATED MAJORS & MINORS
Still looking for the right fit? Here are some additional program options that we think might interest you or are often paired with this program. You can also view the programs page to keep exploring your options.
Applied Ag & Food Studies
WHY STUDY AT MORNINGSIDE?
13:1
student/faculty ratio so you're assured a quality education focused on you
99%
employed or in graduate school within six months of graduation
65+
majors & pre-professional programs available
Contact Us
Our admissions team is eager to answer your questions about this program and how to apply.