PROGRAM OVERVIEW
The Environmental Policy/Law minor provides students with a comprehensive interdisciplinary understanding of the policies and laws that shape our relationship with the environment. It combines aspects of political science, economics, and environmental science to offer insights into the legal frameworks that govern environmental conservation and sustainable use of resources. Students will explore pressing environmental issues from climate change to biodiversity loss and the legislative efforts to address them. This minor prepares students for careers in agriculture, food studies, environmental advocacy, policy-making, and legal professions.
Degrees
Environmental Policy/Law
Minor
A Great Fit For
Those wishing to develop a broad understanding of the agriculture industry with access to unique opportunities in Sioux City, the state of Iowa, and beyond.
An individual with a strong interest in environmental issues and a desire to understand how legislation and policy-making can facilitate positive environmental change.
A student studying majors like political science, economics, or sociology who wishes to specialize in environmental aspects.
Someone looking for a career in environmental advocacy, policy-making, or legislation, where understanding the legal context around environmental issues is crucial.
A person who wants to enhance their qualifications or diversify their career prospects into fields like agriculture, environmental consulting, law, planning, or public policy.
A science or engineering student who wants to understand the legal and policy framework that guides and regulates their field, particularly if they are working on environmental projects.
THE MORNINGSIDE DIFFERENCE
Hands-On Learning Environment
You'll have access to our 3,300 square-foot state-of-the-art Lags Greenhouse, Rosen Ag Center, Lags Farm, the campus garden, and more to give you hands-on experience outside the classroom preparing you for success.
Externship Program
Our externship program allows you to participate in a paid, semester-long externship in Sioux City, greater Iowa or beyond and work side-by-side with management and production teams doing real agriculture in the real world.
Career Opportunities
Morningside graduates of the agriculture and food studies program have gone ton to careers at Tyson Foods, Palmer Candy Company, U.S. Department of Agriculture, Farm Credit Administration, and more.
FEATURED COURSES
REQUIRED COURSE
The course focuses on international legal issues including global climate change; transboundary pollution; resource depletion; toxic waste export; biodiversity and wildlife/plant extinction; deforestation; desertification; ocean pollution; sustainable development; and possibly more.
ELECTIVE COURSE
This course studies the relationship between politics (both international and domestic) and economics. Topics include: trade regimes; exchange rates; macroeconomic policy; globalization of finance, production, and consumption; trade blocs, development; industrialization; North-South issues; sustainable development; economic interdependence.
ELECTIVE COURSE
This course is an introduction to the United States legal system and processes. Topics discussed in the course include: the relationship among the legal system, government institutions and society; basic legal procedures and concepts; an introduction to selective substantive areas of the law (family, criminal, torts, contracts) and contemporary public legal issues such as racial discrimination, affirmative action, patient's rights, embryo research, DNA databases, internet regulation.
ELECTIVE COURSE
Students enrolled in this course will explore contemporary topics in the public policy arena and apply economic analysis to the programs to determine effectiveness, efficiency and social equity. Students will be introduced to various methods of data gathering, qualitative and quantitative analysis methods—all traceable to the field of economics and public policy.
LEARN BY DOING
REGINA ROTH APPLIED AGRICULTURE AND FOOD STUDIES DEPARTMENT
As an Agricultural and Food Studies student, you'll learn how different agricultural production and business systems affect crop yield, farm profitability, soil health, and models of long-term sustainability. You'll also have access to our state-of-the-art facilities giving you hands-on experience for the real world.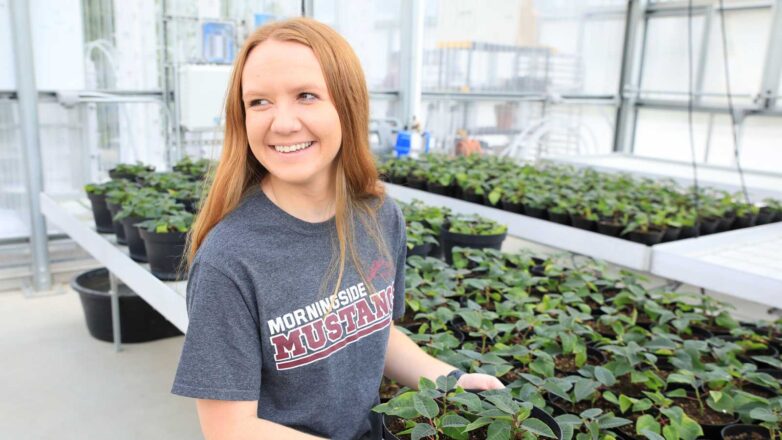 RELATED MAJORS & MINORS
Still looking for the right fit? Here are some additional program options that we think might interest you or are often paired with this program. You can also view the programs page to keep exploring your options.
Applied Ag & Food Studies
WHY STUDY AT MORNINGSIDE?
13:1
student/faculty ratio so you're assured a quality education focused on you
99%
employed or in graduate school within six months of graduation
65+
majors & pre-professional programs available
Contact Us
Our admissions team is eager to answer your questions about this program and how to apply.