Supply chain management, cybersecurity programs added for Fall 2023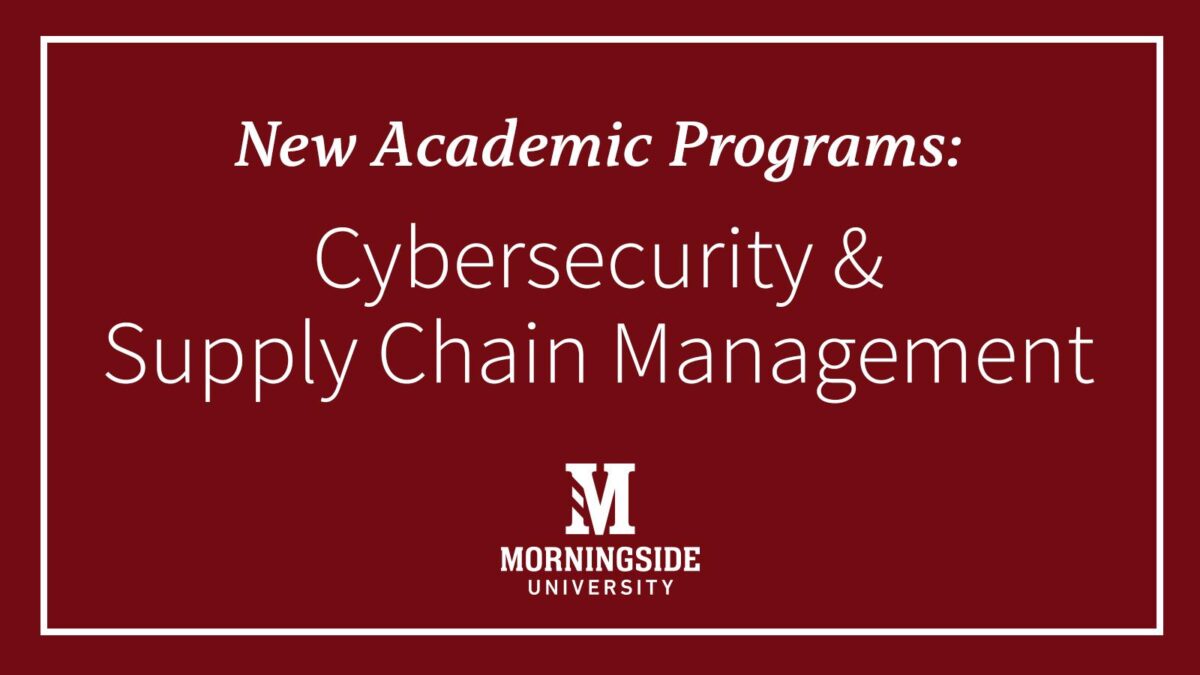 Sioux City, Iowa – Morningside will offer two new degree options in cybersecurity and supply chain management beginning in fall 2023. The move comes in response to Morningside University President Dr. Albert Mosley's commitment to increasing access and opportunity for Morningside students while also providing the talent that Siouxland leaders in business and industry are seeking.
"I applaud our faculty for taking action to help establish these new programs while responding to the needs of our business and industry partners in Siouxland," said Dr. Albert Mosley, president of Morningside University. "Our students will have the opportunity to become equipped with the skills necessary to take on careers in these areas, and those students will become the talent that the employers in our region need."
The new programs will be offered in partnership with Rize Education, which will allow students to complete the majority of their coursework in-person at Morningside with a small subset of courses taught online through Rize. This combination of in-person and online learning will allow students to enjoy all the benefits of a Morningside education while also having access to the partnerships and opportunities available through Rize.
"Morningside is fortunate to have outstanding faculty who provide our students with ample opportunity for experiential and active learning opportunities here on campus. The partnership with Rize only enhances that by offering our students access to online courses that are taught by faculty with specific subject matter expertise that will help prepare them for careers in cybersecurity and supply chain management," said Vice President for Academic Affairs Chris Spicer. "Additionally, Rize has partnerships with a number of top companies across the country that will create additional opportunities for our students to gain real-world experience."
According to the U.S. Bureau of Labor Statistics, each of the program areas Morningside is adding are high-skill, high-wage, high-demand areas.
Careers associated with cybersecurity are expected to grow by 35% through 2031 with median pay of $102,600 per year. Common jobs for an individual with a cybersecurity degree often include information security analyst, cybersecurity engineer, cybersecurity analyst, information security manager, and security architect.
Careers in supply chain management are expected to grow by 28% through 2031 with a median salary of $77,030 per year starting, and salary jumping to more than $97,000 with three to five years of experience. Common job titles for individuals with a degree in supply chain management may include warehouse administrator, logistics manager, director of operations, production planner, supply chain director, or chief operations manager.
Morningside is enrolling students in these programs as soon as fall 2023. Steph Peters, associate vice president for admissions, says there is still plenty of time for new students to enroll if these program are of interest to them.
"We have a number of students who are still in the process of making their college decision and that's completely typical and totally understandable. If Morningside is place you are considering, know that our team is still accepting applications, setting up visits, and connecting families with financial planning now and throughout the summer to make sure you have what you need as you weigh your options," Peters shared.