Morningside University's Regina Roth Applied Agricultural and Food Studies Department to host Franklin Agricultural Leadership Summit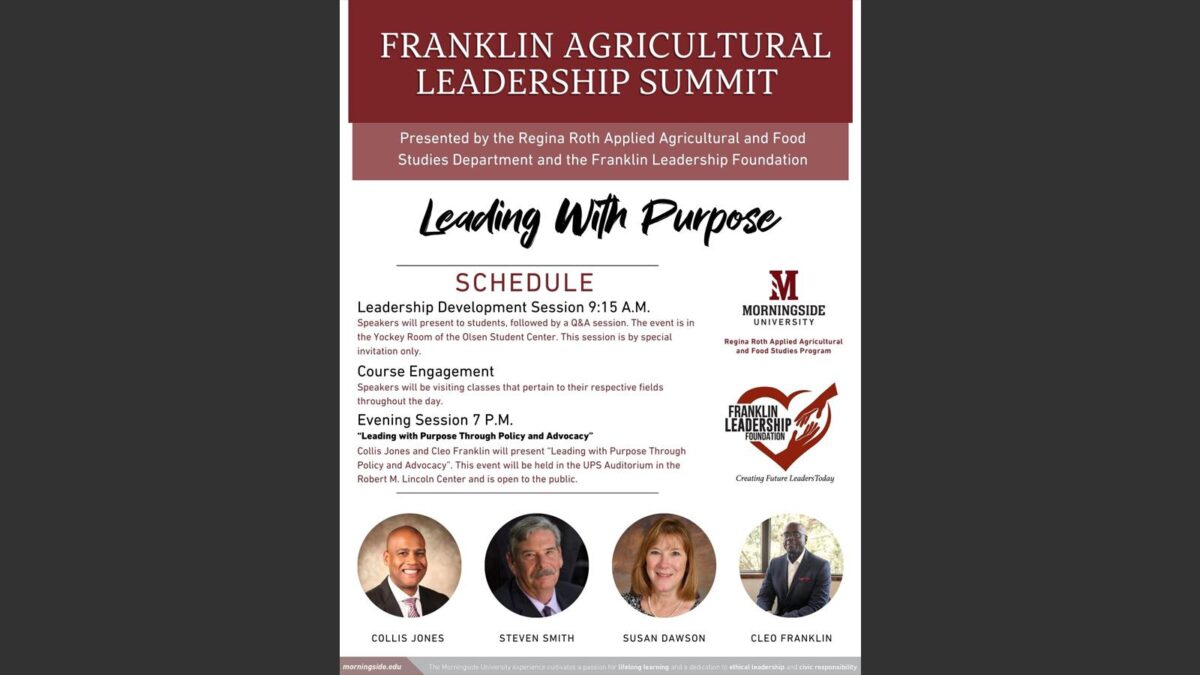 SIOUX CITY, Iowa – Morningside University's Regina Roth Applied Agricultural and Food Studies Department, in partnership with the Franklin Leadership Foundation, is hosting a premier leadership event at Morningside University on Sept. 20, 2023.
The Franklin Agricultural Leadership Summit "Leading With Purpose" is a single-day event for Morningside University students to interact with and learn from high-caliber leaders from around the world. Cleo Franklin '81, Steve Smith, Collis Jones, and Susan Dawson will headline the event to discuss their leadership experiences.
"This will provide Morningside University students with the opportunity to hear from experienced industry leaders who can help them build their professional networks and enrich their knowledge of the ag sector," said Dr. Tom Paulsen, department chair for the Regina Roth Applied Agricultural and Food Studies Department. "It's energizing to be in a room where experience and energy combine with enthusiasm for this industry. We are incredibly grateful to Cleo Franklin for making it possible."
The event's keynote presentation, "Leading with Purpose through Policy and Advocacy," will be hosted at 7 p.m. in UPS Auditorium in the Robert M. Lincoln Center. This evening session is free and open to the public.
A leadership development session kicks off the morning, followed by a Q&A panel. In the afternoon, the leadership speakers will engage with students in individual courses pertaining to their respective fields. All daytime activities are open by special invitation only.
As part of the Franklin Agricultural Summit, Cleo and Lois Franklin and the Franklin Leadership Foundation have also established the Franklin/Eickhoff Scholarship designated for financially disadvantaged and students of color who are in the academic middle, and intend to pursue an agricultural related major or minor. Those interested in contributing to the scholarship can do so here.
Cleophus (Cleo) Franklin Jr.'s leadership career spans over 30 years with John Deere, Case-New Holland, and Mahindra. His global expertise in designing robust business and innovative branding growth strategies has benefited many companies across the globe, resulting in numerous marketing, new business growth, and new product innovation awards in the agriculture and heavy equipment industries.
During his tenure at Mahindra, the company increased its business (product sales and finance business) from $136 million to $2.1 billion and established the No. 3 position in North American market share.
Franklin founded Franklin Strategic Solutions, a consulting business focusing on leadership & business development, business/brand strategy, and executive coaching. He is also the founder of Morningside University's "Franklin Leadership Foundation." The foundation's purpose focuses on creating future leaders today through mentoring, internships, scholarships, and experiential learning.
His two leadership books, "Coffee with Cleo" and "Lessons from our Mothers and Fathers" focus on professional and personal leadership development. Franklin's third book, "What do you see when you look at me?" celebrates children's broad and dynamic imagination and inspires them to tap into their curiosity "superpowers!" Franklin is a board member and adviser for several for-profit/non-profit business ventures and is an adjunct professor at the University of Houston – Downtown.
Franklin earned his master's degree from Kenan-Flagler School of Business at the University of North Carolina and a bachelor's degree from Morningside University in Sioux City, Iowa. He and his wife, Lois, reside in Cypress, Texas.
Collis R. Jones is the Vice President of U.S. Public Affairs Policy & Strategy at John Deere Public Affairs in Washington D.C. He leads the team responsible for managing U.S. federal and state government relations activities on behalf of Deere. These efforts are aimed at supporting legislation and public policies that are favorable to the interests of the company's employees, customers, and business partners.
Jones brings over 20 years of governmental strategic, tactical, and policy development experience to this role and is one of Deere's key contributors in delivering client-focused business initiatives within the organization. His 31-year career began at John Deere Financial and has included various marketing, sales, and public policy leadership roles across the enterprise.
He holds a bachelor's degree in political science from Augustana College in Rock Island, Ill.
Steven L. Smith worked for over 40 years in Latin America, and is an experienced leader in a fast-growing and dynamic region. He has worked with several major agriculture tractor and equipment companies, including Mahindra Americas and Case Agriculture. His equipment experience spans from leading existing and new "start-up" businesses in Mexico and Latin America, as he is currently leading the construction business for LiuGong, a global equipment manufacturer.
In addition to leading businesses abroad, Smith brings deep knowledge and experience from living, studying, and working in Mexico. This critical "on-the-ground" perspective gives Smith the ability to bridge and understand multi-layered business and cultural customs between internationally based companies throughout the value chain from farmers, contractors, dealers, and business owners in Latin America.
Having started in the field as a bilingual service representative, Smith knows the business from years of work and has been instrumental in introducing new, industry-transforming products in the market, such as self-propelled cotton pickers and sugar cane harvesters in markets that still used manual labor to harvest the crop.
Susan Dawson is the Laboratory Administrative and Operations Director at Swedish and Skokie Hospitals in Chicago. Previously, Dawson was a Clinical Laboratory Manager for over 20 years. Susan earned her MBA from North Park University and her BA from Augustana College and is an ASCP registered Medical Technologist.
Siemens Healthineers has recognized her for her contribution to the industry and her willingness to share insights into the operational implementation of instruments and systems. In addition to utilizing software solutions to improve quality and make laboratory operations more efficient, she has presented on change management in webinars hosted by the AACC and Select Science.
Susan has presented on laboratory efficiency, automation, and auto verification at symposiums in the U.S., Europe, and China, including the American Association of Clinical Chemistry (AACC) Annual Meeting, Executive War College, and the National Chemistry meeting in China. She has co-authored abstracts and papers on laboratory automation. She has worked with data management solutions for over 20 years.
Her leadership goal is to reduce work stress to ensure after a long day, her staff members have plenty of energy to enjoy time with their families and personal activities. Susan enjoys traveling, swimming, and spending time with her family outside of work.