Inauguration of Dr. Albert Mosley, 13th president of Morningside University, to be held April 19-20, 2023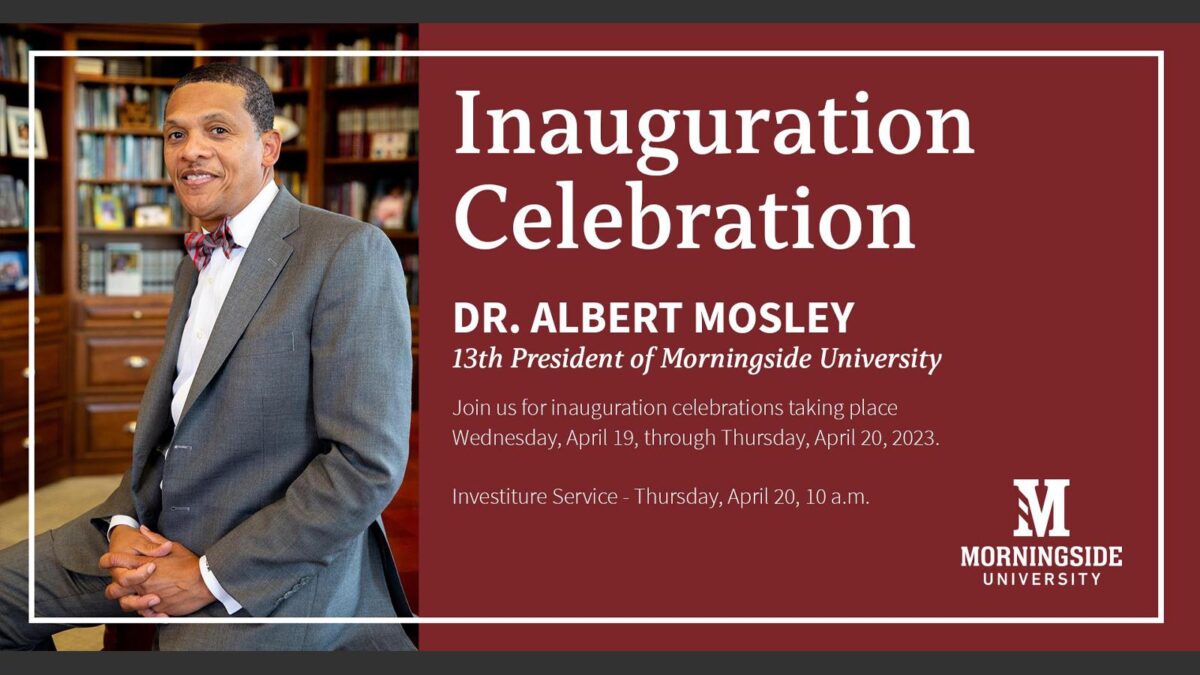 SIOUX CITY, Iowa – The Morningside University Board of Directors is pleased to announce the inauguration of its thirteenth president, Dr. Albert Mosley. Events will be held Wednesday, April 19, through Thursday, April 20, 2023, at Morningside University. The investiture service will take place on Thursday, April 20, at 10 a.m. in Eppley Auditorium, 3625 Garretson Avenue, Sioux City, Iowa. The most up-to-date information for the event can be found at morningside.edu/inauguration.
Mosley was named the president by the Morningside University Board of Directors in December 2021. He officially took office on July 1, 2022, following the retirement of President Emeritus John Reynders who served from 1999 to 2022 and is the longest-serving president in Morningside history.
"Dr. Mosley is an exceptional leader who has created much excitement for the future of Morningside University. His inauguration will be an inspiring look forward while also celebrating the rich history we have enjoyed for almost 129 years," said Dr. Esther Mackintosh, chair of the board of directors and the master of ceremonies for the investiture service. "I strongly encourage all those with ties to Morningside to join us in showing support as Dr. Mosley is formally installed as our thirteenth president and our campus has the opportunity to celebrate an inauguration for the first time in more than two decades."
The inauguration celebration will commence with the Palmer Research Symposium taking place on campus Wednesday, April 19, beginning at 8 a.m. and concluding at 4 p.m. The event will feature student and faculty research showcased through oral and poster presentations at various locations throughout campus.
At around 12:45 p.m. on Wednesday, Dr. Rajasingh Johnson, professor of medicine, microbiology, and immunology in the College of Medicine at the University of Tennessee Health Sciences Center in Memphis, will deliver the Palmer Research Symposium keynote lecture in UPS Auditorium inside Morningside University's Lincoln Center.
At 5:30 p.m. on Wednesday, Morningside will host the 2023 Waitt Lecture in Eppley Auditorium, 3625 Garretson Ave. This event is free and open to the public. A by-invitation dinner will follow the lecture.
The investiture service will take place on Thursday, April 20, at 10 a.m. in Eppley Auditorium. The theme of the service is "Purpose. Pride. Promise. Celebrating our purpose of lifelong learning, ethical leadership, and civic responsibility; the pride of our history of excellence; and the promise of an ever-brighter future." The service is open to the public and will also be streamed. Dr. Esther Mackintosh will serve as the master of ceremonies for the event. Dr. Michael Ugwueke, president and CEO of Methodist Le Bonheur Health Care based in Memphis, Tenn., will serve as the keynote speaker. The Morningside University School of Visual & Performing Arts will supply music for the occasion. A by-invitation breakfast will proceed the event.
In connecting both campus and community, the service will include music from both The Morningside Choir and the Sioux City MLK Community Choir.
At the conclusion of the investiture service, a meet and greet reception will be held outside of Eppley Auditorium. Light appetizers and refreshments will be served. That will be followed by a short program for students in Olsen Student Center. At the conclusion of the student program, the campus community, alumni, friends, and the greater Sioux City community will be invited to participate in service activities taking place throughout the afternoon in partnership with the City of Sioux City, Omicron Delta Kappa, Campus Ministry, and Student Government.
The day will conclude with an Inauguration Alumni & Friends Happy Hour at Bob Roe's Point After, 2320 Transit Ave., from 4:30 to 6 p.m. Individuals attending this event are asked to RSVP here.
Questions regarding the inauguration events can be directed to Lisa Krohn, executive assistant to the president, at 712-274-5100 or krohn@morningside.edu.
About Dr. Albert Mosley
Prior to Morningside he served as the senior vice president and chief mission integration officer for Methodist Le Bonheur Healthcare (MLH), a nonprofit, comprehensive, six-hospital healthcare system based in Memphis, Tenn. As part of the executive leadership team at MLH, Dr. Mosley provided strategic visioning and leadership to a division with more than 350 full-time employees and a budget in excess of $50 million. While at MLH, Dr. Mosley launched several transformational, community-based initiatives including a large-scale partnership with the Shelby County School System in Memphis designed to increase literacy rates. He also helped lead the Methodist Healthcare Foundation and Methodist Le Bonheur Community Outreach to garner more than $80 million in grants and philanthropy that helped provide resources to underserved populations and food insecure patients during the COVID-19 pandemic.
Mosley has also held a variety of senior leadership roles in higher education, including at The Johns Hopkins University, Duke University, Bethune-Cookman University, and Gammon Theological Seminary.
President Mosley holds degrees from Millsaps College, Duke University, Yale University, and the University of Georgia, and serves in leadership roles for many distinguished national and international organizations.
He and his wife, Dr. Syreeta McTavous-Mosley, are the proud parents of four children. Their adult sons Avery and Todd are both students at the University of Memphis. Addison is a student at the University of Tennessee in Martin, Tenn., and Ava-Rose is a third grader. You can read his complete story here.
About Dr. Esther Mackintosh
Dr. Esther M. Mackintosh '69 served as president of the Federation of State Humanities Councils from 2004 to 2020 and was originally hired as a vice president in 1986. The Federation is a membership association of the 56 state and territorial humanities councils that supports the work of the councils and strives to create greater awareness of the value of the humanities in public and private life.
Mackintosh has served as part of the Morningside University Board of Directors since 2010 and became chair in 2021. She is also the namesake and driving force behind the Dr. Esther M. Mackintosh '69 Endowed Humanities Scholar of the University at Morningside University, which created a tenured position focused on redefining the role of the humanities at the University as a reflection of Mackintosh's advocacy and passion for liberal arts education, the humanities, and her alma mater. She received her bachelor's degree in English from Morningside and holds a doctorate in American literature from Kansas State University.
About Dr. Rajasingh Johnson
Dr. Rajasingh Johnson is a professor in the department of bioscience research with a secondary appointment in the department of medicine-cardiology and department of microbiology, immunology, and biochemistry at the University of Tennessee Health Science Center in Memphis.
He trained as a postdoctoral fellow at Vanderbilt University, St. Elizabeth's Medical Center, and Northwestern University before accepting an appointment as an associate professor at the University of Illinois in Chicago in 2008. His research interest is focused on novel strategies to enhance the therapeutic benefits of stem cells in regenerative medicine, particularly to repair the heart, lungs, and oral tissues. Currently, the lab where he works is reprogramming somatic cells by a safe approach using mRNA of pluripotent factors to generate induced pluripotent stem cells and further differentiating those cells. His research group is also looking into epigenetic mechanisms of somatic cell reprogramming and developing an exosome-based therapy as an alternative viable cell-free source for heart regeneration. Dr. Johnson's research is supported by grants from National Institute of Health and American Heart Association.
About Dr. Michael Ugwueke
Since January 2017, Michael Ugwueke, MPH, DHA, FACHE has served as President/CEO of Methodist Le Bonheur Healthcare, a six-hospital comprehensive health system that employs 13,000 individuals and serves a three-state region. Before joining Methodist Le Bonheur Healthcare, he served as vice president of operations at Provena Saint Joseph Medical Center.
Ugwueke has a bachelor's degree in biology from Shaw University, a Master of Public Health from Emory University, and a Doctor of Health Administration and leadership from the Medical University of South Carolina. Over the last 26 years he served in planning and operational leadership roles in health care organizations in Atlanta, Sarasota, Fla., Washington, D.C., and the Chicago area. In 2012 and more recently in 2020, Ugwueke was named one of Modern Healthcare's Top 25 Minority Executives in Healthcare.
About Morningside University
Morningside is a private university located in Sioux City, Iowa, that was established in 1894 by The United Methodist Church. It is recognized for providing undergraduate students with exceptional active learning experiences on a beautiful 69-acre residential campus. The university is also well regarded for its online graduate programs, flexible post-baccalaureate programs, and online bachelor's degree completion options.
Morningside offers more than 65 areas of study for undergraduates, as well as graduate programs in nursing or education, including a 100% online Doctor of Nursing Practice program. Total enrollment is approximately 2,400 students from nearly all 50 states and around 20 countries.
Morningside offers robust study abroad and May Term programs that give students the ability to customize their education and access a global network of opportunities. The University is also home to 28 athletic teams that are often competitive at a national level, visual and performing arts, more than 35 clubs and organizations, and other well-established active learning options that engage students outside the traditional classroom setting. Learn more at morningside.edu.