YOUR RIGHT TO KNOW
One of our goals is to provide potential Morningside University students and their parents/guardians with certain information, to which you are entitled by a regulation of the U.S. Department of Education. It's our intention to make this information as clear and accessible as possible.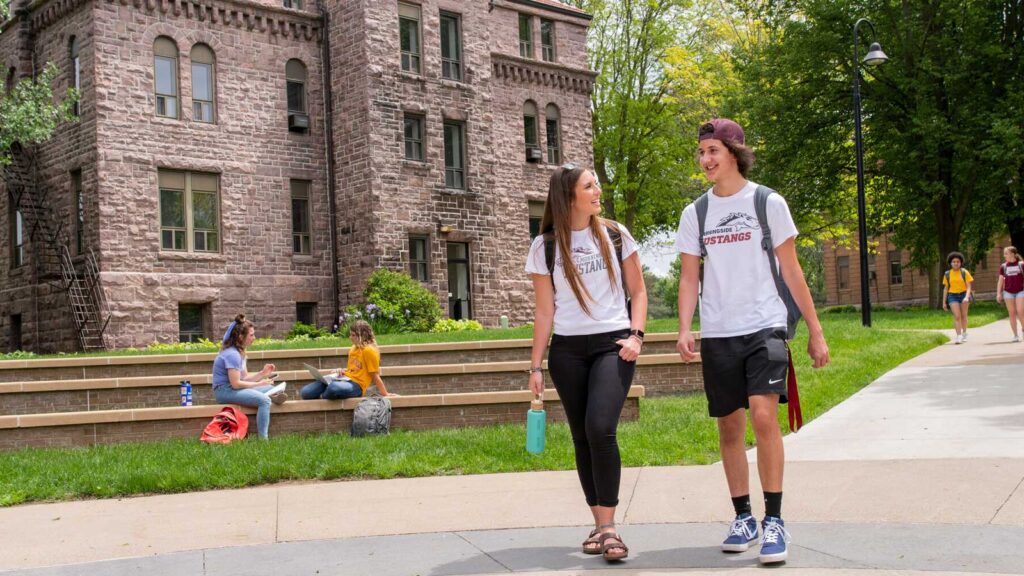 INSTITUTIONAL DATA
Morningside University is a private, four-year college affiliated with the United Methodist Church.
100% of our undergraduate students receive some type of financial aid.
We offer over 65 majors and pre-professional programs.
We belong to the NAIA Great Plains Athletic Conference and offer more than 26 men's and women's Division II teams, and intramural sports as well.
Our beautiful 68-acre campus is located in a residential area in Sioux City, Iowa (population: 140,000).
We enroll nearly 1,300 full-time students.
With a 13:1 student: faculty ratio, you're assured a quality education focused directly on you.
Over the past three years, our graduates have a job and grad school placement rate of 99%.
We're a member of the North Central Association and fully accredited by the Higher Learning Commission (HLC). Check out our accreditation.
Mission: The Morningside University experience cultivates a passion for lifelong learning and a dedication to ethical leadership and civic responsibility.
Vision: The University is a student-centered participatory community, offering a liberal arts curriculum combined with a diverse array of practical experiences. The goal is the development of the whole person though an emphasis on critical thinking, effective communication, cultural understanding, practical wisdom, spiritual discernment, and ethical action. The Morningside University graduate is equipped for both personal and professional success.
Morningside University offers academic programs leading to degrees in a number of fields for which professional practice requires license or certification by state, local, or professional boards. The curricula in these programs have been designed to be consistent with recognized professional and national standards, as well as the standards set forth by the Iowa licensing boards governing each of these disciplines. However, the requirements of the state boards and licensing agencies vary greatly over time and from state to state. If you are considering applying to one of these programs, please go to the Professional Licensure Disclosures page for more information regarding educational requirements for professional licensure in the U.S. states, commonwealths, and territories.
Morningside University believes in and promotes non-discrimination, and follows its obligation to prohibit unlawful discrimination in all forms. It is our policy and practice to promote equal opportunities without regard to age, sex, religion, creed, race, color, gender identity, sexual orientation, disability, genetic information (employment only), national origin, or other characteristics protected by state and federal law ("protected and immutable characteristics"). This basic philosophy applies not only in searching for new employees, but also in the recruiting of students. It is believed that there should be no discrimination on the basis of these protected and immutable characteristics in the selection or placement of employees, as well as in administration, supervision, compensation, training, promotions, and termination of employment. Every other practice or procedure, both in the areas of academics and business, must subscribe to the intent of this basic philosophy which is inherent in Judeo-Christian principles.
Morningside University is committed to providing a workplace and educational environment, as well as other benefits, programs, and activities, that are free from discrimination, harassment, and retaliation.
Title IX is a federal law under the Department of Education's 1972 amendment (amending the Higher Education Act of 1965) that protects all individuals from discrimination based on sex in educational programs or activities.
COMPLAINT POLICY
Morningside University takes student/faculty/staff concerns seriously, and is dedicated to helping find the best possible resolutions for those concerns. If you have a concern, the first step is to work directly with the individual most directly related to that issue. Through direct communication between the parties involved, often it is possible to solve conflicts in a swift and satisfactory manner. In cases where it is not possible to work directly with that person, or if the parties are not able to reach a resolution, you may also address concerns with direct supervisors (such as department heads in academic cases, and staff supervisors in non-academic cases.
If the issue remains unresolved after you have met with the individual and/or supervisor, you may submit a formal complaint. Formal complaints may be filed by contacting the individuals/offices below.
To file a complaint with external agencies against Morningside University involving issues of financial aid, fraud, waste, or abuse of federal funds, special education, or civil rights, please follow the guidelines provided.
GRADUATION, RETENTION, TRANSFER, AND JOB PLACEMENT OUTCOMES
View a history of Morningside Undergraduate student retention and graduation rates.
ADDITIONAL POLICIES
Students who are members of any branch of the U.S. military reserves or the National Guard may be involuntarily called to active duty during a term in which they are currently enrolled.
RESOURCE DOCUMENTS
Informational documents for Morningside University.