KEEPING YOU SAFE ON CAMPUS
Safety and security on campus are of paramount importance. Our campus security team operates 24/7, ensuring the well-being and protection of all students, faculty, and staff. Our ultimate goal is to foster a campus environment where everyone feels secure and can focus on achieving their academic and personal goals.
PROVIDING A SAFE AND SECURE CAMPUS
The mission of Morningside's Safety & Security is to help foster a safe and secure environment for students, faculty, staff, and visitors. To accomplish this, the University employs a campus safety & security director and assistant director along with 20-25 part-time student security aides. The office also works closely with local emergency agencies and frequently patrols the grounds.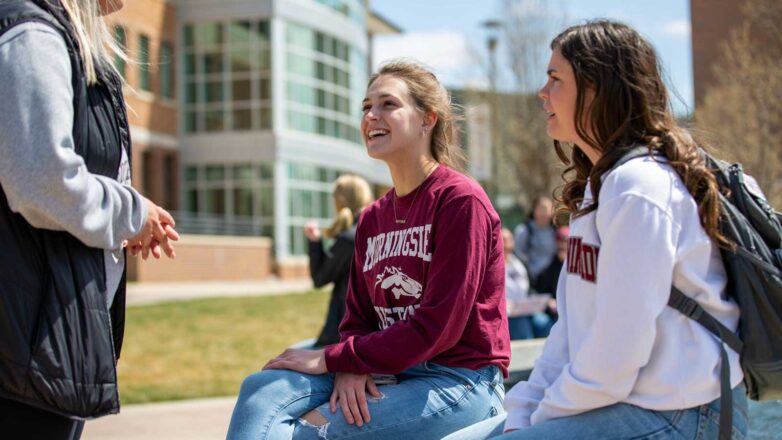 INFORMATION
24-hour Escort service to and from buildings, parking lots, or cars
Vehicle assistance program, including jumping cars and opening locked doors
Transportation for those with limited mobility including, but not limited to: those on crutches, walking boots, wheelchairs, and those just needing extra assistance
Offer programs including:

Crime Prevention
Sexual Assault awareness
Self-defense classes
Fire Prevention
Alcohol and drug abuse prevention
Call 911 for emergency medical, fire, or law enforcement services. Call 1-800-222-1222 for poison control. For non-emergencies, call:
In the case of a major emergency, school closings, and severe weather, alerts are posted via the Morningside Electronic Notification System, which sends out alerts to all students, faculty, and staff via a message to their cell phone and to the college e-mail account. Updates will be posted to the college website and messages will be sent out via the Electronic Notification System. In the case of the campus being closed due to weather, the Vice President for Academic Affairs Office will also send a message out using the Electronic Notification System. All students, faculty, and staff are automatically enrolled in the system.
Morningside's Office of Campus Safety & Security publishes an annual Security and Fire report in accordance with federal and state law. All students, prospective students, parents, faculty, and staff are encouraged to read the report.
Title IX is a federal law under the Department of Education's 1972 amendment (amending the Higher Education Act of 1965) that protects all individuals from discrimination based on sex in educational programs or activities. These include but, are not limited to sex based discrimination in sports, against pregnant and parenting students, or women in STEM programs (science, technology, engineering and math). It also addresses sexual harassment, gender based discrimination and sexual violence. Sexual violence covers attempted or completed rape or sexual assault, as well as sexual harassment, intimate partner violence, stalking, exhibitionism, verbal or physical sexuality based threats or abuse and voyeurism.
Parking Information
Morningside is pleased to offer convenient parking for students, faculty, staff, and visitors. Parking is regulated by the Campus Safety & Security team.
SAFETY & SECURITY STAFF
Director of Safety & Security
Brett Lyon
712-274-5500 (office)
712-203-1990 (cell)
Hickman-Johnson-Furrow Learning Center (LIBR) 109
lyon@morningside.edu
Assistant Director of Safety & Security
Jerry Meisner
712-274-5505 (office)
Hickman-Johnson-Furrow Learning Center (LIBR) 109
meisnerj@morningside.edu