VISUAL ART AT MORNINGSIDE
ART FOR ALL
Visual Arts at Mside encompasses a broad range of mediums, including painting, sculpture, photography, and digital art, allowing students to explore and specialize according to their interests and passions. Through studio work, collaborative projects, and critical discussions, students sharpen their technical skills, cultivate their artistic voice, and develop a nuanced understanding of the role of art in society.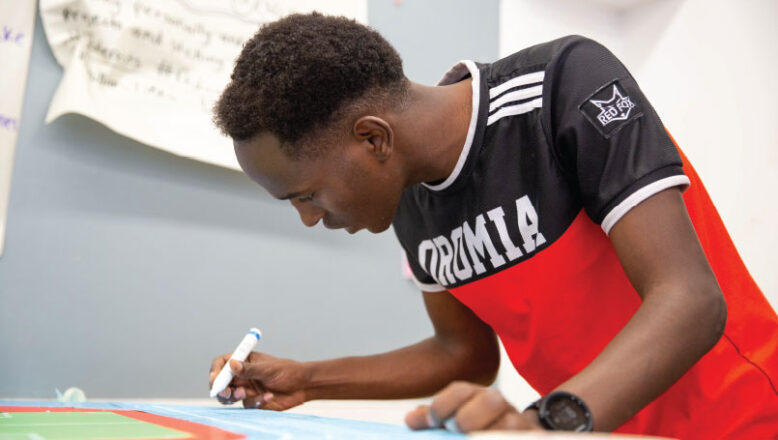 ART GALLERIES
Eppley Art Gallery
Morningside University is home to two galleries, both located in the Eugene C. Eppley Fine Arts Building. Eppley Art Gallery, located in the foyer of the building, regularly features exhibitions by guest artists, students, and faculty.
To apply to exhibit in Eppley Art Gallery, please email Art Department Head Shelby Prindaville at prindavilles@morningside.edu with a portfolio of exhibitable work as well as your availability, keeping in mind that we typically schedule the gallery a year in advance.
Helen Levitt Art Gallery
The Helen Levitt Art Gallery adjoins Eppley Auditorium and is home to the Levitt art collection that includes work by internationally famous artists. This million-dollar collection includes works by Tamayo, Rauschenberg, Johns, Frankenthaler, Nevelson, Motherwell, Miro, and Hockney. This gallery also becomes home to different events, including Morningside's publication party for our nationally awarded annual magazine Kiosk.
SCHOOL OF VISUAL & PERFORMING ARTS
The Morningside University School of Visual and Performing Arts provides immersive opportunities for Morningside students and the Siouxland community to experience the power of music and the fine arts. All Morningside students, regardless of major, can audition and perform in ensembles and productions.