MORNINGSIDE HONOR BAND
REGISTRATION DEADLINE DEC. 15, 2023
FEBRUARY 23-24, 2024
Midwest high school musicians are invited to participate in the 2024 High School Honor Band at Morningside University in Sioux City, IA. The festival brings together high school instrumentalists from all over the region. Participants in the festival spend two days on campus interacting with Morningside music faculty, nationally-renowned clinicians, and current Morningside University music students. Two days of rehearsals, masterclasses, and faculty recitals will culminate in a free public concert featuring the Honor Band and the Morningside University Wind Ensemble in the historic Eppley Auditorium.
If you have any questions, please contact Dr. Christopher Brandt, Director of Instrumental Activities and Athletic Bands, at brandtc@morningside.edu or (712) 274-5206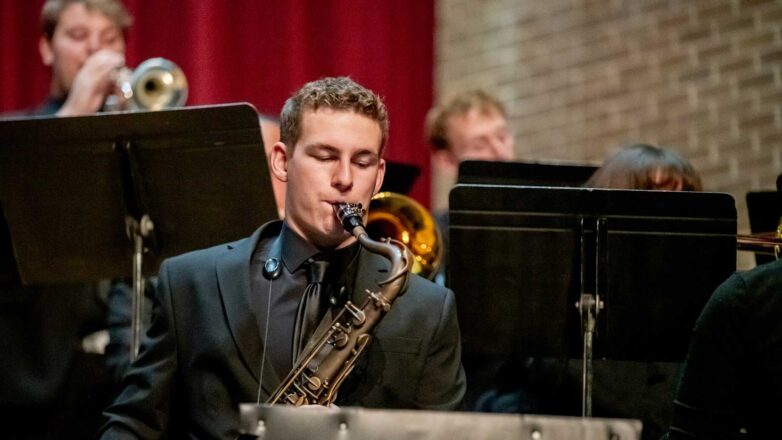 HOW TO NOMINATE
Registration for all accepted students is $40 and covers all meals and a festival T-Shirt. Lodging is also available (quad occupancy) for an additional $40. Interested students and directors should register by December 15th to secure a spot.
STEP 1
Download the permissions forms and hand them out to nominated students.
STEP 2
Fill out the nomination form
STEP 3
Email completed permission forms to brandtc@morningside.edu
Once the roster is finalized, music and payment instructions will be emailed out to directors in early January.
SCHEDULE
9:00 – 10:00 Check-In
10:00-12:00 Welcome
12:00-1:15 Lunch
1:15-2:30 Masterclasses
2:30-2:45 Break
2:45-4:45 Rehearsal
4:45-6:00 Dinner
6:00-6:45 Masterclass
6:45-7:00 Break
7:00-8:15 Rehearsal
8:15-9:30 Social Hour
8:00-9:00 Breakfast
9:00-11:00 Rehearsal
11:00-11:15 Break
11:15-12:30 Masterclass
12:30-1:30 Lunch
1:30-3:30 Dress Rehearsal
3:30-4:30 Break/Snack
4:30-5:30 Recital Hour
5:30-6:45 Dinner
7:30 Concert
MEET THE DIRECTOR
Christopher Brandt
Visiting Assistant Professor
I have a passion for music and for teaching and at Morningside I am able to share that passion with students from across campus as well as prepare the next generation of music educators to continue that legacy. #MsideProud
Christopher's Profile
THE ARTS AT MORNINGSIDE
SCHOOL OF VISUAL & PERFORMING ARTS
The Morningside University School of Visual and Performing Arts provides immersive opportunities for Morningside students and the Siouxland community to experience the power of music and the fine arts. All Morningside students, regardless of major, can audition and perform in ensembles and productions.