(VITA)L Service: Morningside students find purpose and passion volunteering with Center For Siouxland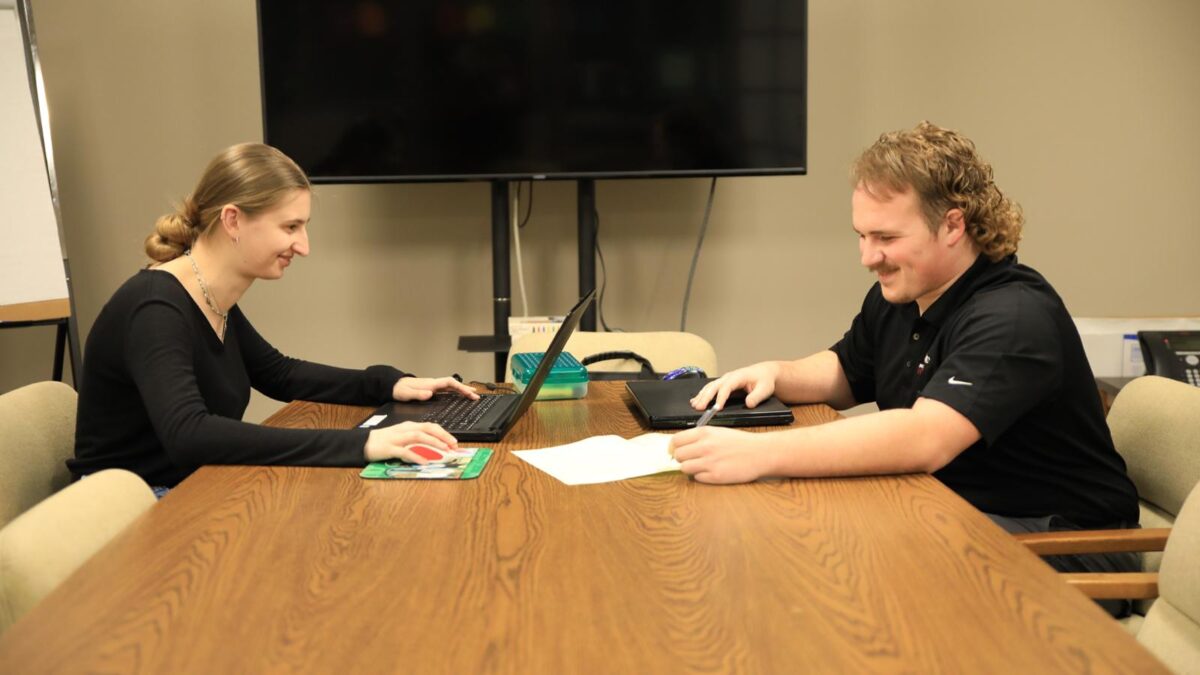 Benjamin Franklin said in a letter to Jean-Baptiste Le Roy in 1789 that "in this world nothing can be said to be certain except death and taxes." While these realities can conjure foreboding feelings in many of us, the certainty of taxes offers Morningside accounting students a meaningful growth experience as volunteers for Center For Siouxland's Volunteer Income Tax Assistance (VITA) program.
Accounting is part of the Morningside University School of Business and offers students two distinct options depending on their professional interests. The managerial accounting program is for those who wish to take on a career in industry or private accounting, while the public accounting option prepares individuals who wish to become a Certified Public Accountant (CPA). Despite the differences in the degree options, both programs share a focus on experiential learning and earning professional certifications.
Twyla Rosenbaum and Mark Nielsen are the two professors leading the charge in teaching accounting classes at Morningside. Together this dynamic professor duo has amassed an impressive amount of professional credentials and experience to ensure their students are well-prepared after graduation. They also take great care to arrange ample opportunities for Morningside students to build their own resumés.
"Connecting students with alumni and other professionals in the industry allows them to see themselves and their future. For example, I have been taking students to the Institute of Management Accountants national accounting and leadership conference every year since 2017. It gives them a chance to interview and explore job opportunities while also providing me with an opportunity to nominate students who attend for scholarships to help cover costs for the CMA certification," shared Rosenbaum. "Our goal with providing an array of experiences, activities, and volunteer opportunities is always to open as many doors as possible for our students to grow and make connections."
One staple opportunity for Morningside accounting students for around 20 years has been volunteering for the Center For Siouxland VITA program. Located in downtown Sioux City, Center For Siouxland has served the region for nearly 48 years with a mission of helping people, empowering lives, and building futures through financial and housing stability. The VITA program is one of several services offered by Center For Siouxland, offering free income tax preparation and e-filing for households making less than $60,000 per year. The program is volunteer-dependent, with many volunteers from colleges and universities in the region including Morningside. Presently, 18 Morningside students are signed on to volunteer during the upcoming tax season.
Students who choose to volunteer for VITA have the option to earn college credit for their work, and Center For Siouxland provides them with the necessary training to assist Siouxlanders. Those who volunteer with VITA often have varying degrees of experience with taxes when they start, but Center For Siouxland Executive Director Jonette Spurlock notes that it doesn't take long for even novice students to learn the ropes.
"I enjoy watching the students grow personally and professionally. I see the fear in their eyes when they first get started. By the end of the season, though, they are helping solve problems and answering questions for others. Their confidence grows tremendously."
Rosenbaum concurs that the program offers students an opportunity to build their professional confidence, and she also sees the deep impact it has on them from the standpoint of civic responsibility, sharing, "Students who volunteer with VITA really see the socioeconomic differences in our own community. In some cases, VITA is their first time interacting with individuals who are facing poverty or homelessness. This experience really broadens their viewpoint on life and makes them more empathetic to individuals facing serious crises."
The experience is often so meaningful to students that many choose to return to volunteer year after year, even if they are no longer receiving credit. Morningside accounting students Brenick Birks-Hoppe and Sophie Fill are among a group of returning volunteers this year, and Spurlock acknowledges that those returners are an important indicator of the work Center For Siouxland is doing.
"Students like Brenick and Sophie who choose to return to volunteer for more than one year make my heart happy. It tells me as the executive director that we did our job. Not only are we providing a valuable service to the clients, but to our community as a whole."
As an accounting major, Birks-Hoppe initially signed on with Center For Siouxland to gain professional experience but quickly discovered a far more meaningful perspective.
"My Morningside degree has forced me to step outside of my comfort zone. I easily could have been just another face at a big school, but instead I chose the small school that has made a big impact on my life. Volunteering at Center For Siouxland has shown me what the real world is like. People of all walks of life rely on outreach programs such as VITA. I have learned that the little things matter so much, and a little bit of my time is a huge deal to people in need."
Fill, on the other hand, isn't an accounting major, but wanted to gain accounting experience and found volunteering for VITA to be a good way to do that since training is provided for volunteers. She, too, has appreciated the perspective that volunteering has provided her as she prepares to continue her education and pursue a career in business.
"One of the great aspects of doing taxes for people in your community is that you get to hear so many different stories and make more connections to a great variety of people. It gives you insight into the job you might want to do in the future while helping others out and gaining professional experience."
For Spurlock, continuing to nurture and grow that pipeline of volunteers like Birks-Hoppe and Fill means growing the number of people Center For Siouxland is able to serve.
"Center For Siouxland's programs and services focus on giving people the tools they need to make informed decisions about their finances on a fundamental level. VITA is only part of what we do, but it can open the door to people learning more about the resources available to them through Center For Siouxland," she shared. "When I started with Center For Siouxland 19 years ago we were completing about 300 tax returns through VITA. Today we are over 2,000. That's only possible because of our community volunteers and places like Morningside."