Ron Jorgensen: Investing in Morningside, Community, and Family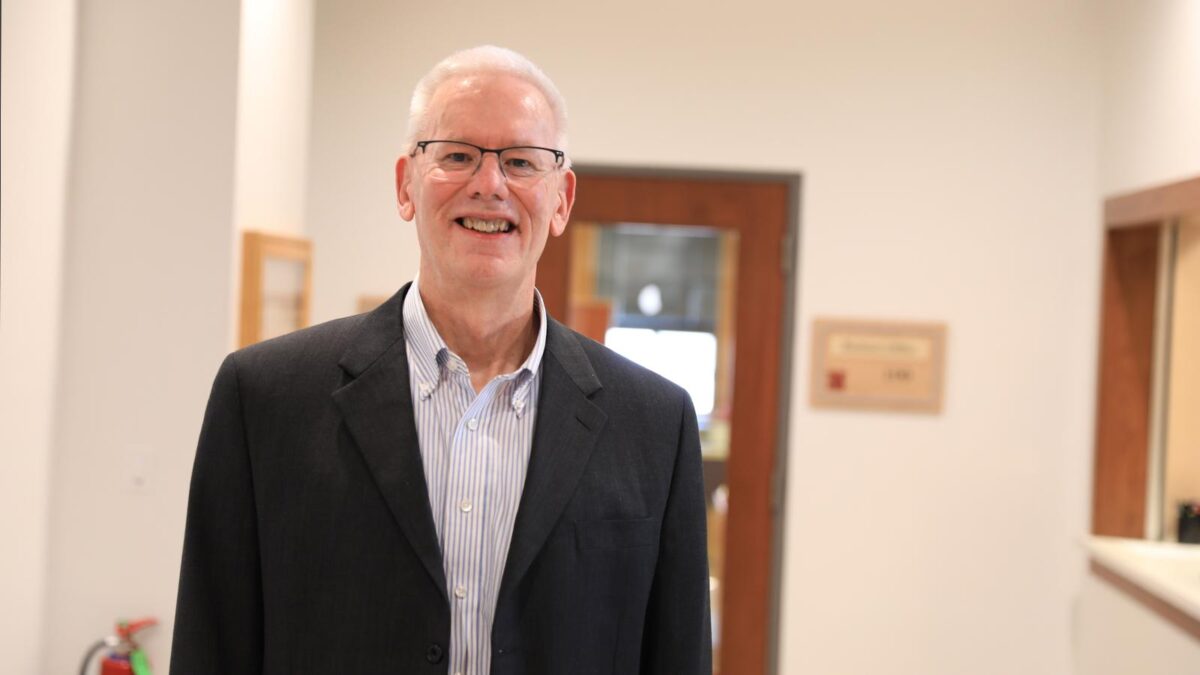 Ron Jorgensen '79 knows better than anyone that Morningside is an investment worth making. He first invested in the University as a student in the 1970s. Now, 44 years after graduating from Morningside, Jorgensen will conclude his professional career as a long-serving Morningside employee who has invested much time, talent, and treasure to his beloved alma mater.
Jorgensen began pursuing his Bachelor of Science in business administration in 1975. His parents owned a house not far from campus that had an upstairs apartment where he lived while studying and working off-campus during his four years as a Morningside student. Following graduation, Jorgensen took a job as a staff accountant at First National Bank (now U.S. Bank). He worked there for 17 years, taking on progressively more responsibility and being promoted numerous times before eventually being named vice president and cashier.
During that time and beyond, Jorgensen also continued his education. He earned a Master of Business Administration from the University of South Dakota, graduated from the Graduate School of Banking at the University of Colorado in Boulder, passed the Certified Management Accountant exam (CMA), and passed the Certified Cash manager exam (CCM). As he progressed, he began to realize he was ready for a change.
In 1996, Jorgensen heard that Morningside was looking for a vice president for business and finance. He applied and was offered a position that would be the beginning of a 26-year tenure at Morningside.
"Accepting that job offer back in January 1997 is the best decision I have ever made. It's been an honor to be part of such a great organization and to be part of a management team that has truly transformed this campus. I am also proud to have built an incredibly strong staff within my division that has helped create that success," shared Jorgensen.
Indeed, the University has seen extensive transformation during Jorgensen's tenure. More than $70 million in campus improvement have been made, the endowment has grown by more than $30 million, the overall financial condition of the University has improved, and Morningside has seen its best enrollment and fundraising success to date.
"The best part of working at Morningside is knowing we have made a positive difference in the lives of students," commented Jorgensen. "Seeing students mature and grow is incredibly rewarding, and it feels good knowing that Morningside students who earn their degree greatly increase their opportunity for success after college."
Ron Jorgensen '79 and Paul Treft '84 Outside of being a dedicated professional, Jorgensen also believes strongly in giving back to the community where he lives. He has served on more than 15 different profit and non-profit boards during his lifetime living in Siouxland. He was also elected to serve on the Sioux City Community School District school board for six years – half of which he served as president – and also served six years in the Iowa House of Representatives.
"It's important for me to do what I can to improve the community," Jorgensen noted. "I plan to continue being involved even after retirement."
That time is just around the corner for Jorgensen. On May 31, 2023, he will officially retire as vice president for business and finance at Morningside. Paul Treft '84 is set to step into the position after working for Jorgensen for many years.
Once retired, Jorgensen plans to play golf, read, and travel. He is even considering getting involved in theatre and getting his first tattoo. More than anything, though, he is looking forward enjoying more time with his wife of 41 years, Kathy; his two sons, Corey and Eric; daughter-in-law, Kristin; two grandsons, Calvin and Carson; and his sister, Paula. He emphasizes that family has always been central to who he is as a professional and a person.
"For me, being grateful, working hard, being fair, exceeding expectations when you can, not taking yourself too seriously, being a good listener and a lifelong learner, having fun, giving back, and being unafraid to fail have all been important to my own success," reflected Jorgensen. "More than anything, though, it is so important to find time for family."
While his immediate family will be the focus of his next chapter, Jorgensen acknowledges that Morningside has also given him another kind of family that he also intends to maintain, stating, "Morningside will always be part of my life."