Morningside Theatre presents Amélie the Musical Feb. 16-19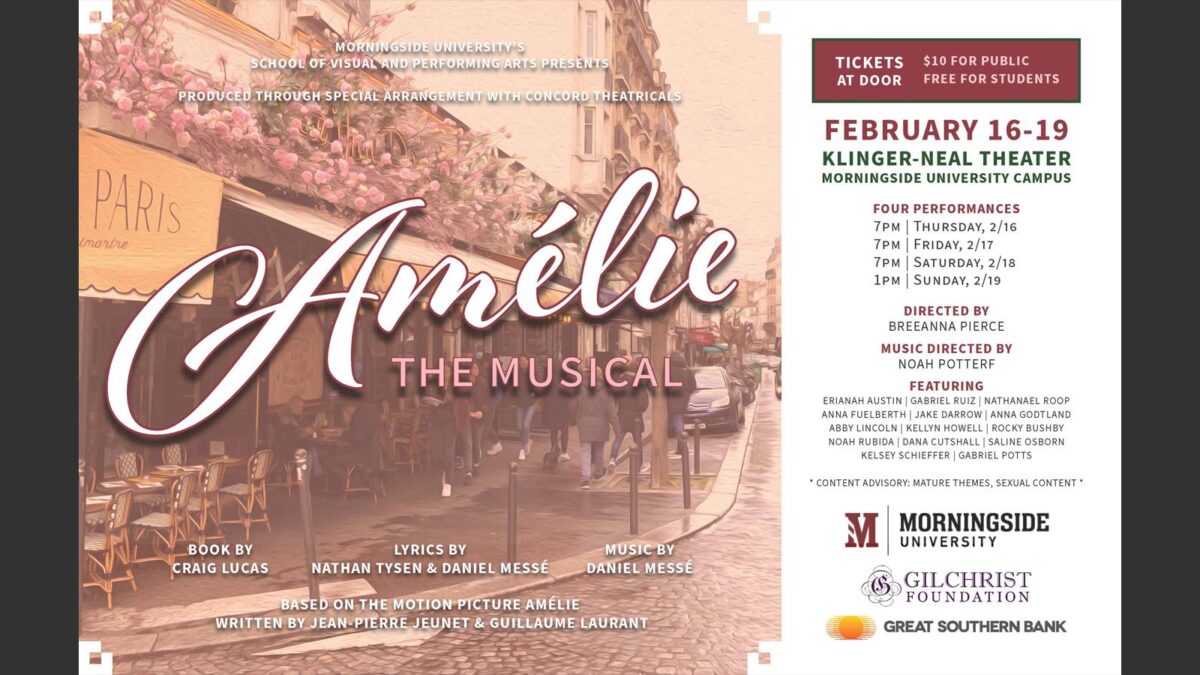 SIOUX CITY, Iowa – Morningside University's School of Visual and Performing Arts is excited to present Amélie the Musical as a part of the 2022-23 theater schedule.
Four performances of Amélie are held in the Klinger-Neal Theater Thursday, February 16 through Sunday, February 19. The performances Thursday through Saturday are at 7 p.m. and Sunday's matinee begins at 1 p.m. Tickets are sold at the door for $10 for the general public with cash and check as acceptable payment options. Students get in free.
Amélie is based on the 2001 French film by the same title, and is a story of a young Parisian woman searching for human connection by committing random acts of kindness. As she performs these acts of kindness, she inches closer to happiness, but when the opportunity for love presents itself, Amélie struggles to take the first step.
As with all Morningside Theater productions, the cast and crew is a collaboration between both Morningside students and Faculty, and the greater Siouxland community. Breanna Pierce ('23) is directing this year's musical. Noah Potterf ('24) is the music director and Kaelin Armstrong ('23) is the stage manager. Morningside professors Taylor Clemens and Josh Nannestad will serve as faculty advisors assisting with production.
Starring as the titular character Amélie Poulain is community member Erianah Austin, returning to Morningside's stage after performing with New Stage Player's summer production of Shrek the Musical as Gingy and Sugar Plum Fairy. Joining Austin is Gabriel Ruiz playing Nino Quincampoix, Nathanael Roop ('24) as Julian Dufayel, Anna Fuelberth ('25) as Amandine Poulain, Jake Darrow as Raphael Poulain, Anna Godtland ('24) as Suzanne Sacripant, Abby Lincoln ('24) as Gina Wells, Kellyn Howell as Georgette Cornuel, Rocky Bushby ('26) as Hipolito Jennet, Noah Rubida as Joseph Cottard, Dana Cutshall ('26) as Philomene de Noirpois, Saline Osborn ('26) as Collignon, Kelsey Schieffer ('25) as Lucien Villeparisis, and Gabriel Potts ('24) as the Mysterious Man.
This production was created with generous contributions from the Gilchrist Foundation and Great Southern Bank and produced through special arrangement with Concord Theatricals. Based on the motion picture Amélie written by Jean-Pierre Jeunet & Guillaume Laurant, the book was written by Craig Lucas, music by Daniel Messé, lyrics by Nathan Tysen & Daniel Messé.
Please be advised this show does contain some mature themes, such as adult language and sexual content. Parent discretion is advised.
The School of Visual and Performing Arts is an integral part of the campus foundation and community. Vocal, visual, and instrumental arts are traditions Morningside has upheld since the school's founding. All performing arts are open to any student on campus, no matter the major. Ranging from choral music to instrumentals, and theatre productions, students are given the opportunity to explore time periods, languages, and cultures, as well as touring regionally, or nationally and internationally.