Morningside announces Class of 2023 graduates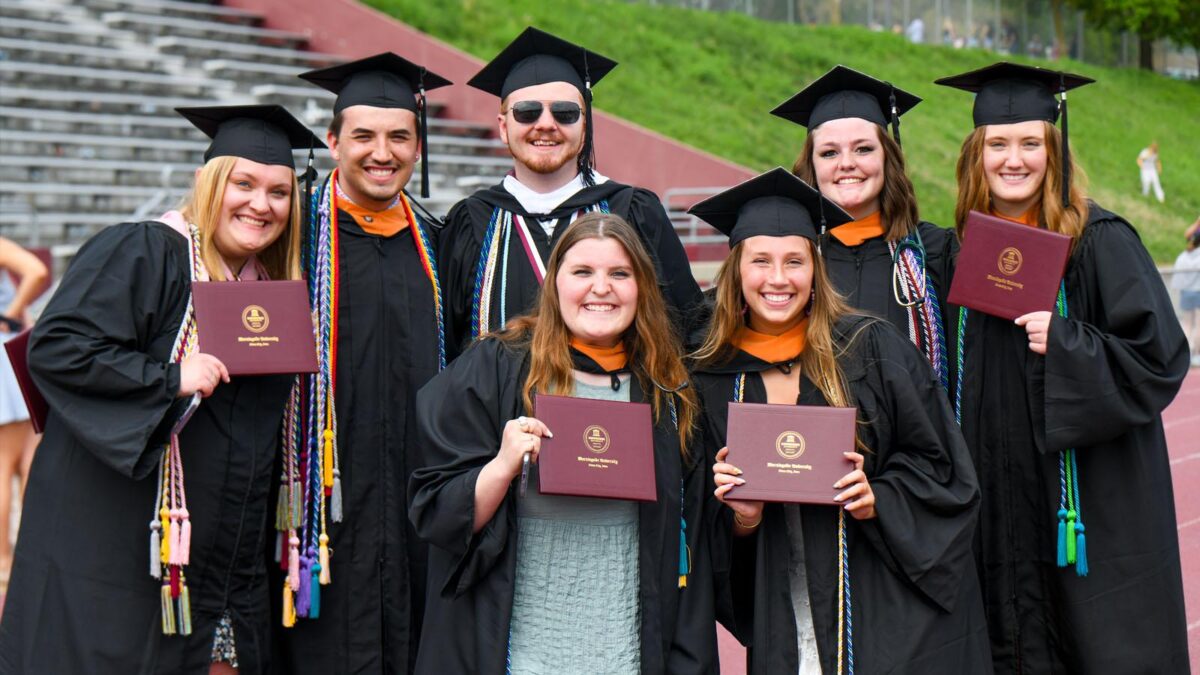 SIOUX CITY, Iowa – 200 undergraduate students and 247 graduate students graduated from Morningside University on Saturday, May 13 at the commencement ceremony held at Elwood Olsen Stadium on Morningside's campus.
Morningside's 2023 commencement marks the first ceremony for President Albert Mosley. Morningside presented honorary degrees to Evelyn Freeman, a 1947 graduate of Morningside who later became the first African American teacher in the Sioux City School District, and Bruce Forbes, a 1970 graduate who taught at Morningside for 40 years and is still involved in campus activities.
Morningside awards general honors based on undergraduate work completed at the university and according to the grade point averages (GPAs). General honors are designated as follows:
*Cum Laude (with honor) at 3.50
**Magna Cum Laude (with great honor) at 3.66
***Summa Cum Laude (with highest honor) at 3.81
The May and summer 2023 graduates are as follows:
Bachelor of Arts
Sioux City: Christine A. Beckham, Nathan M. Bowman**, Haley R. Doran, Chase C. Felix, Jocelyn R. Garza, Isaac L. Henn*, Hunter C. Hope, Erik H. Krenz, Sofia Luna, Nathanial W. Meierotto, Marisa J. Natoli*, Drake T. Partridge, Rhiannon R. Payte, Breeanna J. Pierce***, Ines Rodriquez***, Colby A. Roos, Caden K. Schulte***, Jackson J. Sitzmann, Brooklin M. Webb, Abdullahi A. Yusuf.
Iowa: Aric R. Stephan, Alta, Mykel Ann Z. Gray, Ames, Hope E. Morken***, Ames; Sarah G. Bosch***, Ankeny; Dylan J. Miller, Ankeny; Ely S. Fundermann, Anthon; Rachel M. Steinkamp***, Arcadia; Jonah T. Kollbaum, Bronson; Jaden M. Sanford, Bronson; Jayden R. Steffen, Cedar Rapids; Yesenia Fajardo*, Cherokee; Hunter M Yearington, Clarinda; Levi N. Son, Coin; Carson M. Wadle, Dexter; Garrett L. Anderson*, Dunlap; Sophia M. Peppers, Exira; Olyvia S. Selby***, Fort Dodge; Michelle M. Arnold***, Glenwood; Matthew J. Hanner***, Guthrie Center; Kennedy M. Mason*, Holstein; Roman L. Knudson***, Indianola; Ethan J. Dixon, Lawton; Kaelin H. Armstrong, Logan; Zakary A. Scott*, Mapleton; Tate W. Kounkel*, Merrill; Chloe A. Krommendyk, Orange City; Alexandra L. Inskeep*, Reasnor; Madison L. Slaughter, Rock Valley; Pauntip L. Bannavong, Sergeant Bluff; Alex N. Freeman, Sergeant Bluff; Kennedy E. Skinner***, Sergeant Bluff; Sidnie M. Baier*, Sidney; Benedict P. Steffens***, Spirit Lake.
Nebraska: Caleb A. Pickering, Boelus; Chloe R. Pieper, Dodge; Moses D. Dunbar, Hastings; Erin M. Georgesen**, Hubbard; Makenna L. Laher*, Lincoln; Megan L. Messersmith***, Lincoln; Addison O. McGraw*, Omaha; Christian P. Riha, Omaha; Samantha J. Masid, Plattsmouth; McKenna K. Sims*, South Sioux City; Beau M. Wilke, Stanton; Aspen M. Jansa***, Wahoo.
South Dakota: Kaitlin A. Hofmeister, North Sioux City; Jacob P. Murphy, Sioux Falls; Kathryn J. Murphy, Sioux Falls; Sadie C. Roth**, Sioux Falls.
Other States: Jalen A. Portis, Chandler, Ariz.; Joshua D. Thurman, Surprise, Ariz.; Hunter B. Jenkins, Bakersfield, Calif.; David Hernandez*, Fontana, Calif.; Kaimana H. McCeadie, Irvine, Calif.; Garrett J. Arbuckle, Littleton, Co.; Devyn D. Reilly***, Fountain, Colo.; Kahakai K. Kahoiwai, Wahiawa, Hawaii; Payton J. Sauerbrei***, Worthington, Minn.; Jacob E. Johnson, Nowata, Okla.; Elijah H. Rude, Hudson, Wisc.; JR A. Albers, Gillette, Wyo.
International: Bjarne A. Huth***, Bad Vilbel, Germany; James S. Camp, Carina Heights, Australia; Jackson R. Stephen**, Cowichan Bay, British Columbia, Canada; Georgia H. Davey, Dorset, United Kingdom; Jaime Maza Martin**, Madrid, Spain; Thomas G. Leathern***, Sturgeon County, Alberta, Canada.
Bachelor of Music Education
Sioux City: Nathan C. Kitrell***, Paige A. Moos.
Iowa: Lindsey M. Kruse***, Ida Grove; Dalton F. Glawe***, Le Mars; Emily K. Cunningham***, Shenandoah; Paige M. Kolk*, Urbandale.
South Dakota: Taysia J. Aasen***, Sioux Falls.
Bachelor of Science
Sioux City: Ashley R. Courtney**, Brianna M. Courtney*, Olivia J. Draves, Faith A. Laskie***, Skylar J. Luse**, Helen C. Moore, Shelby L. Onwiler*, Jaden J. Petersen, Duc H. Phan***, Breeanna J. Pierce***, Gabrielle B. Ponce***, Sydney L. Price, Nicole K. Smith**, Joshua W. Tibbits**, Brooklin M. Webb.
Iowa: Taylor D. Pierce, Akron; Cara Forsblom, Cedar Falls; Conner N. Hill***, Ellsworth; Emma M. Hannasch***, Glidden; Mackenzie A. Campbell***, Guthrie Center; Matthew J. Hanner***, Guthrie Center; Thomas R. Heetland**, Hartley; Jennie G. Riedemann, Hartley; Melanee M. Petersen, Hornick; Briley W. Dixon, Kingsley; Madison E. Goodwin*, Kingsley; Will A. Pottebaum***, Le Mars; Lexis A. Schroeder, Le Mars; Isaac J. Maurice**, Logan; Samantha B. Fister**, Lytton; Wade M. Canaday***, Marshalltown; Isaac L. Bower**, Massena; Emma K. Jimmerson, Missouri Valley; Darren G. Stein*, Portsmouth; Taylor G. Richter***, Rock Valley; Madison L. Slaughter, Rock Valley; Abby S. Freeman***, Sergeant Bluff; Hanna N. Johnson***, Sergeant Bluff; Faith J. Miller*, Sergeant Bluff; Bethany A. Widman**, Sergeant Bluff; Danielle L. Unrau, Spirit Lake; Semia R. Aldrich***, Whiting; Landon L. Christensen, Whiting.
Nebraska: Timothy L. Powers III***, Bellevue; Tanner J. Arens***, Crofton; Tyler R. Janssen, Crofton; Vanessa M. Bohuslavsky**, David City; Jacob R. Knott, Elkhorn; Tyler J. Strauss, Fort Calhoun; Audra K. Witmer***, Grand Island; Logan T. Schuelke*, Greenwood; Clayton M. Frost***, Gretna; Genevieve K. Bundy***, Lincoln; Mackenzie L. Hunzeker***, Lincoln; Brooke A. Brabban, Omaha; Sydney M. Petersen***, Omaha; Bryson J. Janousek, Seward; Gage M. Haake, Stapleton; Carlie J. Benes, Valparaiso; Courtney J. Bokemper, Wakefield; Connor R. Boehr, York.
South Dakota: Zachary P. Hefty***, Baltic; Wyatt J. Kleinhesselink*, Dakota Dunes; Eli D. Honken***, Elk Point; Grace A. Wiese, Jefferson; Elizabeth A. Cropley**, North Sioux City; Marisa E. Beintema***, Sioux Falls; Sadie C. Roth**, Sioux Falls; Micki L. Twedell, Sioux Falls.
Other States: Lizeth Hilario, Santa Ana, Calif.; Biancea J. Robles, Santa Ana, Calif.; Evan C. Shell* Fort Collins, Colo.; Dylan T. Hamil**, Durand, Illinois; Lucy L. Preugschas***, Buffalo, Minn.; Rylee S. Olson, Luverne, Minn.; Brett A. McEachern***, Las Vegas, Nev.; Benjamin No, Flower Mound, Texas; JR A. Albers, Gillette, Wyo.
International: Maximilian A. Hartmann, Halstenbek, Germany; Rafael Castilho***, Piracicaba, Brazil.
Bachelor of Science in Nursing
Sioux City: Bailey I. Courtney, Sydney S. Garrigan, Katelynn S. Heger*, Chelsea Vasquez.
Iowa: Blaire A. Steenhoek***, Chariton; Jessica A. Eighmy, Glidden; Kaden R. Ladwig, Ida Grove; Sara R. Clausen**, Johnston; Makayla A. Miller, Sac City; Glendy R. Rodriguez, Sergeant Bluff; Jayden M. Van Wyk, Sergeant Bluff; Theresa J. Hofmeister, Sloan; Madison F. Lingle, Wall Lake; Maddie C. Barten**, Zearing.
Nebraska: Ryley E. Rolls*, Alliance; Grace F. Jensen, Bennington; Sarah I. Severes, Omaha; Katherine F. Wurtz, Omaha; Aubrey M. Cervantes, Papillion; Alyxandria J. Curran Lewis, Plattsmouth; Ashley J. Rios, South Sioux City; Tenna L. Beel, Stanton.
South Dakota: Kelsey N. Cass, Pierre; Carter L. Ades*, Sioux Falls; Riley J. Salzman***, Sioux Falls.
Other States: Emma G. Larson, Kelseyville, Calif.; Amanda E. Ward, Longmont, Colo.; Caitlin J. Charity, Topeka, Kan.; Collin R. Adank, Saint Clair, Minn.; Jessica J. Schlesser***, Charlotte, N.C.; Holly S. Severance***, Las Vegas, Nev.; Lowell Y. Kim, Bellevue, Wash.
Master of Arts in Teaching
Sioux City: Michael J. Amman, Angela C. Benz, Nicole M. Gigaroa, Bryn T. Groff, Lachel R. Jung, Shaina Le, Ashley J. Lewis, Travis J. McGauflin, Megan M. Mogensen, Abby K. Person, Josh Weltz.
Iowa: Amy K. Kruse, Albert City; Calvin J. Brandt, Algona; Alyssa A. Handy, Altoona; Lindsey S. Pothoven, Altoona; Laura Lee L. Medema, Ames; Tonja R. Meier, Ames; Alyssa Peiffer, Ames; Kaitlinn S. Hager, Ankeny; Brooke E. Hoeger, Ankeny; Tessa M. Reiter, Ankeny; Ryan M. Sheldon, Ankeny; Samantha D. Sheldon, Ankeny; Andrew G. Smith, Ankeny; Robin N. West, Ankeny; Stephanie F. Kelley, Atlantic; Molly A. O'Hara, Atlantic; Rachael E. King, Audubon; Tonya L. Vetter, Audubon; Heather Anfinson, Aurora; Ganna Lander, Avoca; Anna K. Pauley, Avoca; Tobias Jessen, Bettendorf; Jennifer G. Newquist, Blue Grass; Casey Schwartzlose, Blue Grass; Joe Salazar, Bondurant; Megan L. Larson, Boone; Stacy D. Swenson, Britt; Regan L. Gritsch, Brooklyn; Shannon R. Boyle, Burlington; Tanessa J. Eberhardt, Burlington; Kristen N. Hackman, Calmar; Callie C. Kallsen, Carson; Jessica M. Jacobson, Cedar Falls; Alex Boomershine, Cedar Rapids; Pamela Faith E. Claussen, Cedar Rapids; Taylor M. Foley, Cedar Rapids; Janelle H. Hurkett, Cedar Rapids; Ashley Jones, Cedar Rapids; Max A. Matthias, Cedar Rapids; Elizabeth Neuhaus, Cedar Rapids; Kylie A. Sheets, Cedar Rapids; Ashten E. Stelken, Cedar Rapids; Caitlin A. Vint, Cedar Rapids; Tony D. Vis, Cedar Rapids; Tara Windenburg, Cedar Rapids; Tamara D. Carel, Centerville; Hailey A. Eberhart, Charlotte; Josh Landhuis, Cherokee; Alex R. Anderson, Clinton; Alicia D. Elmore, Clinton; Allison R. Gandrup, Clinton; Keitha Kjergaard, Clinton; Casey L. Bisher, Clive; Sarah K. Determan, Clive; Sonja M. Bruxvoort, Coralville; Demetrius R. Harper, Coralville; James M. Shelman, Coralville; Page M. Wiese, Council Bluffs; Sara E. Bourassa-Dorsett, Davenport; Shannon M. Harty, Davenport; Allison L. Hendrickson, Davenport; Matthew R. Johnson, Davenport; Conner M. McCool, Davenport; Justin A. Thrailkill, Decorah; Alec J. Baldwin, Des Moines; Sarah A. Flores, Des Moines; Mallory L. Hammitt, Des Moines; Abigail Marta Heusinkvelt, Des Moines; Connor W. Nitz, Des Moines; Colin J. Sinn, Des Moines; Kari M. Christianson, Dubuque; Emma R. Deutsch, Dubuque; Carol L. Gunn, Dubuque; Brock C. Haas, Dubuque; Melissa M. Sendt, Dubuque; Corey J. Erps, Durant; Megan Reeves, Dyersville; Megan R. Lehman, Eddyville; Crystal R. Migiel, Eldridge; Jessica L. Dusek, Fruitland; Clarissa J. Welsh, Garner; Cheyanne Johnsrud, Grimes; Sara L. Jones, Grimes; Abby L. McKee, Hampton; Jena L. Hardy, Hanlontown; Kristin L. Berns, Harpers Ferry; Katy K. Ruth, Hills; Traci L. Comes, Hinton; Jennifer J. Jochims, Holstein; Nancy Dickmann, Hull; Susan J. Blanchard, Humboldt; Megan L. Clark, Independence; Alecia S. Kaczmarek, Indianola; Erin L. Moser, Indianola; Natalie K. Fobian, Iowa City; Neil C. Mulka, Iowa City; Sophia C. O'Brien, Iowa City; Savannah E. Sheets, Irwin; Tiffanie A. Flack, Jefferson; Miranda S. Meinecke, Jefferson; Elizabeth A. Sadler, Jesup; Molly Wingert, Kelley; Cami D. Winn, Keokuk; Andrew L. Kelley, Knoxville; Megan M. Capesius, LaMotte; Blake F. Sappingfield, Lawton; Erica L. Miller, Le Claire; Danielle R. Den Ouden, Le Mars; Sunnie E. Ludwigs, Le Mars; Angie L. Sewell, Le Mars; Sarah A. Wonders, Le Mars; Steven L. Husk, Le Mars; Stephanie J. Puhrmann, Le Mars; Jaclyn R. Leuer, Mallard; Jennifer J. Totten, Manilla; Hannah M. Sadler, Mapleton; Brenda R. Bird, Marcus; Lana Cronk, Marion; Danyel D. Kolek, Marion; Jacob J. Stout-Stewart, Marion; Taylor E. Wheeler, Martelle; Melodee A. Birke, Mason City; Stacy E. Martin, Mason City; Jacklyn R. Woodland, Mechanicsville; Andrea J. Medinger, Merrill; Jamie C. Baraibar, Milford; Stefanie M. Staben, Missouri Valley; Miranda M. Hills, Morning Sun; Anna-Marie N. Rose, Mount Pleasant; Vanessa L. Palmer, Nevada; Sara M. Brashaw, New Vienna; Kristina D. Ditch, North Liberty; Lauren E. Krogman, North Liberty; Marjorie M. Lane, North Liberty; Kathryn C. Riddle, North Liberty; Shea M. VanLangen, North Liberty; Meagen A. Wahl, Norwalk; Amanda E. Strouse, Ogden; Tori L. Mueller, Oskaloosa; Megan Stumpf, Otho; Kami J. Millikin, Ottumwa; Kylie Lenz, Panama; Laura K. Oberhoffer, Peosta; Shawon D. Zmolek, Persia; Tyler G. Baethke, Pleasantville; Alec Ruskell, Red Oak; LeAnna K. Carson, Redfield; Kymberly Pease, Rock Valley; Kendra R. Morrow, Runnells; Brandon G. Verros, Sergeant Bluff; Matthew D. Dykstra, Sheldon; Nathan J. Kelly, Sigourney; Rochelle Achenbach, Spencer; Sara R. Schiltz, Spencer; Andrew S. Knaack, Traer; Brooke L. Flathers, Treynor; Jenna A. Conn, Urbandale; Cristina M. Moser, Urbandale; Alexis M. Brouillette, Waterloo; Ashley F. Clark, Waterloo; Allissa A. Clauson, Waterloo; Jennifer L. DenHartog, Waterloo; Elizabeth R. Gerstenkorn, Waterloo; Eric D. Harbaugh, Waterloo; Lara J. Hilpepre, Waterloo; Ai-Linh Hong-Miller, Waterloo; Bradley J. Maas, Waterloo; Melinda B. Abendroth, Waukee; Emily A. Jobst, Waukee; Brittney Latcham, Waukee; Kacy L. Lee, Waverly; Heidi K. Christy, West Des Moines; Emily Jermeland, West Des Moines; Claire E. Larson, West Des Moines; Crystal Pyle, West Des Moines; Hiliary V. Uhlman, West Des Moines; Alyssa L. Krogmeier, West Point; Jacob J. Pedersen, West Union; Ryan J. Hand, Wilton; Jodi A. DeVore, Winterset; Suzanne C. Goeller, Winthrop.
Nebraska: Christine M. Morrison, Blair; Amber J. Davies, Hartington; Ahnika R. Bradley, Kearney; Astrid V. Aparicio Sandoval, South Sioux City.
South Dakota: Tracey A. Broughton, Dakota Dunes; Amy J. Caselli, Sioux Falls, S.D.
Other States: Meghan N. Lacey, New Milford, Conn.; Kaleb P. Garnica, East Moline, Ill.; Melissa J. Howard, Moline, Ill.; Shannon L. Norgaard, Plainfield, Ill.; Kaitlyn C. Van Fossen, Poplar Grove, Ill.; Emily M. Borhauer, Elko New Market, Minn.; Brooke Orazem, Maple Lake, Minn.; Emily A. Reller, Melrose, Minn.; Susan Retterath, Mound, Minn.; Nicholas S. Rogers, O'Fallon, Mo.; Danielle L. Stearley, Reno, Nev.; Jennifer L. Wirth, Hermiston, Ore.; Janessa K. Rosebeck, Dallas, Texas.
Master of Science in Nursing
Sioux City: Manuel A. Limon, Kristin M. Sharp, Mikki M. Slatton.
Iowa: Megan L. Schuck, Cherokee; Kourtney L. Wilcox, Correctionville; Taylor E. Ferguson, Iowa City; Ashley S. Dyhrkopp, Le Mars; Amy L. Skov, Le Mars; Gina E. Roseboom, Rock Valley; Samantha A. Smits, Sheldon; Kelsey Stueland, Solon.
Nebraska: Angela L. Parker, Bellevue; Rita Metz, Elkhorn; Therese A. Steffes, Omaha; Joanna B. Croll, South Sioux City; Marissa K. Lundeen, South Sioux City.
South Dakota: Chelsey L. Strand, Chancellor; Preeti D. Gupta, Dakota Dunes; Audrey J. Appel, Redfield; Anna M. Anderson, Sioux Falls; Regan L. Carrizales, Sioux Falls; Jessica Clark, Sioux Falls; Kayla M. Jaques, Sioux Falls; Ashley M. Wolfgang, Sioux Falls; Molly Hohn, Tea; Kristi H. Owen, Tea.
Other States: Sarah L. Yankowski, Colorado Springs, Colo.; Natalie M. Potts, Esko, Minn.; Bryanna L. Wessels, Saint Cloud, Minn.; Jordan M. Farewell, Holly Ridge, N.C.; Lauren E. Kramer, Raleigh, N.C.; Yocheved Schneider, Lakewood, N.J.; Shayna M. Richards, Beaverton, Ore.
Doctor of Nursing Practice
Iowa: Trisha Marie Harms, Le Mars; Katie E. Shull, Turin.