Morningside announces 2022-23 Roadman Scholars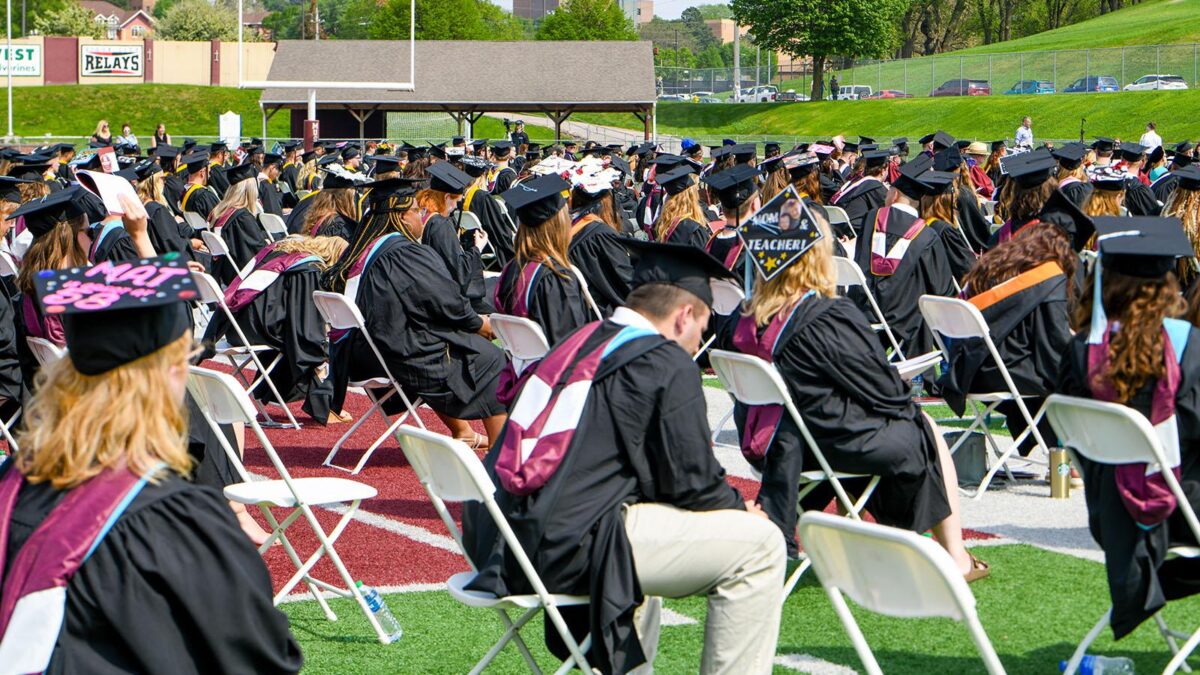 Morningside University has named 258 students as Roadman Scholars in recognition of high academic distinction for the 2022-23 academic year.
Roadman Scholars must be full-time students who have completed at least 45 credits of college work with a cumulative grade point average of 3.76 or above. The award is named in honor of Earl Roadman, who was president of Morningside from 1936 to 1956.
The Roadman Scholars are:
Sioux City: Caitlin Alber, Julianna G. Baker, Ellie R. Barber, Drew M. Benson, Kevin D. Blosch, Nathan M. Bowman, Madison S. Craighead, Paige M. Davis, Lillian P. Davis, Lupita De Anda Valadez, Shelby K. Edwardson, Elizabeth B. Gardner, Ellie Kay S. Gengler, Grace J. Holzerland, Tessa R. Jackson, Spencer L. Kakacek, Nathan C. Kitrell, Matheus Tadei De Lacerda, Faith A. Laskie, Hailey L. Levasseur, Caleb J. Lubbers, Cassidy M. Lutz, Elizabeth W. Macharia, Katie M. McClintock, Mariah M. Milligan, Madison Mozak, Monica R. Olson, Duc H. Phan, Breeanna J. Pierce, Gabrielle B. Ponce, Abraham Ponce, Austin G. Ramold, Ines Rodriguez, Caden K. Schulte, Abigail M. Simmons, Nicole K. Smith, Faith C. TenHulzen, Alexander E. Valdez, Jacob D. Vaught, Abdullahi A. Yusuf, Nicole K. Zuehl.
Iowa: Raileigh L. Edwards, Akron; Brooke M. Haage, Akron; Taylor D. Pierce, Akron; Hope E. Morken, Ames; Sarah G. Bosch, Ankeny; Kennedee L. Jones, Ankeny; Adam Fillipi, Anthon; Rachel M. Steinkamp, Arcadia; Victoria I. Asmus, Audubon; Michael B. Griffen, Avoca; Caleb M. Sutton, Boyden; Ellie J. Woelber, Boyden; Sydney M. Marlow, Burlington; Benjamin P. Schmitz, Carroll; Zariah M. Strong, Cedar Falls; Hadley R. Howell, Cedar Rapids; Blaire A. Steenhoek, Chariton; Lennx A. Brown, Council Bluffs; Elaine A. Morgan, Council Bluffs; Callie A. Stephens, Council Bluffs; Corin E. Bower, Danbury; Jack J. West, Davenport; Cooper A. King, Des Moines; Jakob R. Nelson, Donahue; Elizabeth R. Hogrefe, Eagle Grove; Conner N. Hill, Ellsworth; Matt J. Tweeten, Forest City; Olyvia S. Selby, Fort Dodge; Michelle M. Arnold, Glenwood; Dana Cutshall, Glenwood; Jillian P. Shanks, Glenwood; Cadyn R. Young, Glenwood; Emma M. Hannasch, Glidden; Mackenzie A. Campbell, Guthrie Center; Matt J. Hanner, Guthrie Center; Tom R. Heetland, Hartley; Bailiee L. Jauer, Hinton; Jack M. Wolff, Hinton; Daniel S. Langholz, Hornick; Amber J. Waters, Hudson; Mandi S. De Jongh, Hull; Lindsey M. Kruse, Ida Grove; Lukas Knudson, Indianola; Sara R. Clausen, Johnston; Sarah G. Perez, Larchwood; Hali M. Brown, Lawton; Jenna S. Peterson, Lawton; Ashley A. Reis, Lawton; Derek J. Anderson, Le Mars; Brenick J. Birks Hoppe, Le Mars; Darleen A. Ferguson, Le Mars; Grace Gerdes, Le Mars; Dalton F. Glawe, Le Mars; Will A. Pottebaum, Le Mars; Mel A. Harson, Little Rock; Amelia M. Evans, Logan; Courtney A. Sporrer, Logan; Laura A. Greene, Lytton; Taylor O. Greene, Lutton; Samantha L. Snyder, Marshalltown; Samantha J. Schiefen, Merrill; John N. Groetken, Moville; Dallas W. Kluender, Moville; Jacob D. Martin, Moville; Bryson G. Freeberg, Neola; Brecken M. Freeberg, Neola; Kaleb J. Williams, North Liberty; Marlee K. Lancaster, Onawa; Rachel M. Jorgensen, Orange City; Dylan Johnson, Peosta, Ryan M. Cole, Plymouth; Isaiah A. Hinners, Pomeroy; Emily M. Chicoine, Primghar; Kyle A. Sisler, Runnells; Makayla A. Miller, Sac City; Jack C. Sievert, Saint Ansgar;Abby S. Freeman, Sergeant Bluff; Austin D. Freiberg, Sergeant Bluff; Natasha L. Freiberg, Sergeant Bluff; Chloe E. Goldsmith, Sergeant Bluff; Makayla Grote, Sergeant Bluff; Hanna N. Johnson, Sergeant Bluff; Abby K. Lincoln, Sergeant Bluff; Samatha A. Little, Sergeant Bluff; Kennedy E. Skinner, Sergeant Bluff; Addyson B. Showalter, Sheffield; Emma C. Barwick, Sheldon; Emily K. Cunningham, Shenandoah; Sarah E. Brown, Sidney; Emilia B. Greuniesen, Sloan; Theresa J. Hofmeister, Sloan; Madelynn C. Morony, Spencer; Owen J. Coburn, Spirit Lake; Anna C. Fuelberth, Spirit Lake; Ben P. Steffens, Spirit Lake; Dylan W. Hosek, Traer; Madison F. Lingle, Wall Lake; Ryan J. Kilmer, Walnut; Semia R. Aldrich, Whiting; Alyssa Schafer, Woodbine; Maddie C. Barten, Zearing.
Nebraska: Shawna R. Fernau, Ainsworth; Lauren E. Hedlund, Albion; Carley M. VonRentzell, Ashland; Trey Powers, Bellevue; Mackenna N. Sidzyik, Bellevue; Kale M. Bird, Bennington; Hannah F. Nichols, Broken Bow; Tanner J. Arens, Crofton; Kelsey L. Schieffer, Crofton; Vanessa M. Bohuslavsky, David City; Danielle E. Peterson, Elkhorn; Audra K. Witmer, Grand Island; Emily C. Kwarcinski, Greenwood; Clayton M. Frost, Gretna; Jared A. Nichols, Gretna; Abbe R. Morten, Hartington; Gavin W. Potts, Hartington; Cheyenne J. Donnelly, Homer; Hannah L. Harris, Homer; Kinsey C. Hall, Laurel; Jonathan L. Andreasen, Lincoln; Genevieve K. Bundy, Lincoln; Mackenzie L. Hunzeker, Lincoln; Megan L. Messersmith, Lincoln; Tanner J. Vercellino, Lincoln; Mercedes C. Heckert, Neligh; Chase M. Carter, Norfolk; Chandler L. Bendorf, Omaha; Brendan J. Buckley, Omaha; Moriah Dixson, Omaha; Charles O. Fletcher, Omaha; Megan P. Keller, Omaha; Casey A. Kruger, Omaha; Abigail R. Langseth, Omaha; Sydney M. Petersen, Omaha; Claire C. Wilson, Omaha; Olivia J. Boudreau, Papillion; Joseph J. Ciriaco, Papillion; Camrie N. Miranda, Papillion; Renae L. Mixan, Plattsmouth; Hope A. Rose, South Sioux City; Lily A. Vollertsen, Syracuse; Grace A. Lange, Waverly.
South Dakota: Coryn A. Newcomb, Aberdeen; Zach P. Hefty, Baltic; Eli D. Honken, Elk Point; Ellie M. Wiese, Jefferson; Gracyn J. Van Den Hul, North Sioux City; Breanna R. Roth, Redfield; Elana R. Krutzinger, Salem; Taysia J. Aasen, Sioux Falls; Marisa E. Beintema, Sioux Falls; Carissa A. Johnson, Sioux Falls; Riley J. Salzman, Sioux Falls; Rachel A. Spier, Sioux Falls; Mason T. Welker, Tabor; Emma M. Dahlhoff, Vermillion; Claire E. Cozad, Watertown.
Other States: Trenton Luera, Fresno, Calif.; Cade Nolan, Menifee, Calif.; Bryan R. Ramirez, Santa Ana, Calif.; David E. Vetter, Bennett, Colo.; Jonah P. Gleason, Brush, Colo.; Cassandra M. McDermott, Elizabeth, Colo.; Devyn B. Reilly, Fountain, Colo.; Garrett J. Arbuckle, Littleton, Colo.; Mackailee R. Longobricco, Mead, Colo.; Eddie J. Brancato, Arlington Heights, Ill.; Owen T. Anderson, South Beloit, Ill.; Jacob P. Depauw, South Beloit, Ill.; Gillian M. Depauw, South Beloit, Ill.; Paige A. Taylor, Lansing, Kan.; Tharen R. Cox, Norton, Kan.; Sami J. Giesen, Belle Plaine, Minn.; Gregory J. Clark, Dassel, Minn.; Payton J. Sauerbrei, Worthington, Minn.; Lauryn J. Bonar, Concordia, Mo.; Makenna R. Declue, Moscow Mills, Mo.; Emily A. Clotfelter, Fairfield, Mont.; Dalton D. Polesky, Miles City, Mont.; Brett A. McEachern, Las Vegas, Nev.; Holly S. Severance, Las Vegas; Madeline G. Moore, Westpoint, Tenn.; Sydney M. Lueth, Kansasville, Wisc.; Payton E. Miller, Rock Springs, Wyo.
International: Delfina Stuzynska, Wezembeek Oppem, Belguim; Rafael Castilho Tessecini, Piracicaba, Brazil; Bernardo Guimaraes Barbosa, Sao Paulo, Brazil; Rafael Telles Almeida Pinto, Sao Paulo, Brazil; Thomas G. Leathem, Sturgeon County, Alberta, Canada; Victoria Stausholm, Esbjerg, Denmark; Lucia Kruize, Jaegerspris, Denmark; Jonas Emil Markfoged, Kobenhavn, Denmark; Lea H. Okkels, Naerum, Denmark; Mathias Constantinou, Odder, Denmark; Julie E. Raffel, Rungsted Kyst, Denmark; Freja B. Rasmussen, Svendborg, Denmark; Anders T. Staxen, Vallensbaek Strand, Denmark; Mark Trenkle, Lahr, Germany; Bjarne A. Huth, Bad Vilbel, Germany; Paula Jule Geiser, Baden-Baden, Germany; Gero Emilio Zarbo, Berlin, Germany; Levi Von Hagen, Detmold, Germany; Niklas Gruener, Friedberg, Germany; Maximilian M. Sickenberger, GroBwallstadt, Germany; Johannes A. Lang, Groebenzell, Germany; Yannik Vogel, Palmbach, Germany; Meike Maria Dingenouts, Breda, Netherlands; Marnix Van Exel, Doorn, Netherlands; Roselynn M. Bosman, Drempt, Netherlands; Jurre Thielen, Eindhoven, Netherlands; Jesse S. Welding, Groningen Netherlands; Isabel ter Weeme, Zaandam, Netherlands; Nienke Van Drunen, Zwolle, Netherlands; Agnes Therese L. Garder, Halden, Norway; Enzo Kerekes Tagliati, MoeIndal, Sweden.