From Kindergarten to College: Meet Morningside's Dynamic Bowling Duo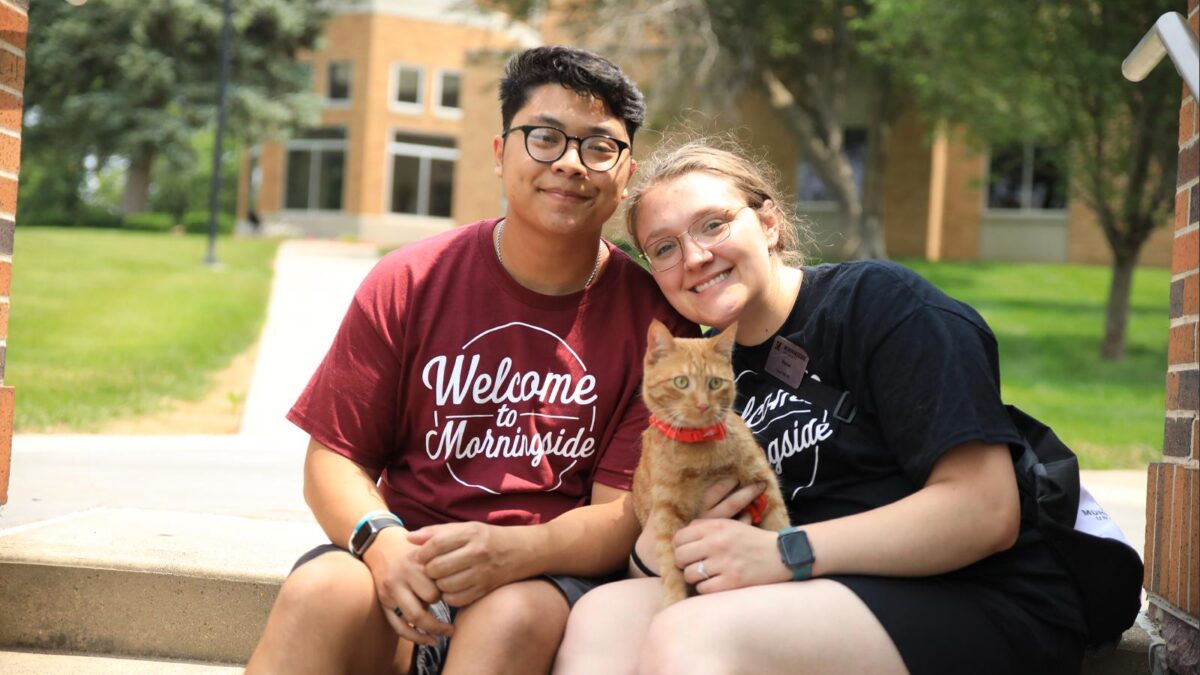 Everyone can remember their childhood best friends. Sometimes they grow apart, but sometimes that bond only grows stronger. For two Morningside bowlers, a bond that started in kindergarten led them to where they are today.
Nick Philthilath and Rachel Spier are juniors from Sioux Falls, South Dakota. They met in their kindergarten classroom, and while they weren't always best friends, they often attribute each other for being where they are today.
Nick is the first to admit he wasn't sure about where to go to college, and going into his senior year at Washington High School he needed some help. He posted to his Snapchat story asking if anyone had suggestions for where to go for school, and an old friend responded.
"One day, I was debating on what school to go to and I posted on my story and said, 'any college suggestions?'" Nick said. "Rachel and I had started getting closer again after we grew apart a little bit throughout high school, and she responded to my story saying Morningside."
Rachel was planning on continuing her education and bowling career at Morningside already, and suggested the same to Nick. On his visit, which was his final one, he really enjoyed the small but not too small campus and his chat with Bowling Coach Steve Gonshorowski.
Both Nick and Rachel joined the bowling team at Morningside after competing in high school. They are very different bowlers though. Nick is a left-handed, two-handed bowler while Rachel is a right-handed, one-handed bowler. Now being juniors on the team, they are growing into leaders for the men's and women's bowling teams.
"After every shot they throw, they are discussing how they threw the ball and giving the rest of the team an idea of how to adjust for their next throws," Gonshorowski said. "I don't tell them where to throw the ball, they make those decisions as a team."
Despite their differences in techniques, the two are very supportive of each other. Between games, they will text about how their day is going, what they are experiencing with the lane's oil pattern, how their ball is rolling, and what they're feeling mentally in the moment. They frequently practice together, but it doesn't mean they won't take their own lane to practice different things on their own.
"When it comes to practices, we are in our own world. We're not going to practice the same thing all of the time," Nick said. "When we are trying to incorporate similar things, we will practice together, but sometimes we take different lanes to work on our own."
In the classroom, they are also different students. Rachel, a biology and chemistry double major with a minor in psychology, is typically on top of her homework and reminding Nick, a biology major, to do his homework. The two have one class together this fall and are interested in similar fields.
Rachel plans on going to medical school after her undergraduate studies. Nick, meanwhile, has plans to attend chiropractic school, even if his significant other has other ideas.
"I plan to attend chiropractic school and get a chiropractic degree, even though Rachel wants me to be able to open my own pro shop because she knows how obsessed I am with bowling," Nick said. "Maybe I can do both some day, but as of now, I just plan to be a chiropractor and keep spending my life with Rachel and Suki."
Nick and Rachel now live off-campus together, and have started a little family of their own with Rachel's cat Suki. They have a routine for Suki, with Rachel typically taking care of her in the mornings and cleaning the litter box, while Nick tends to play and take care of Suki at nights as the night owl of the couple. Nick even has a "Cat Daddy" shirt that he proudly wears.
"Being able to go home after working at HyVee and make s'mores on the balcony with Nick and Suki gives me a sense of home, even though I may not be back home," Rachel said. "Even though we go to class together, bowl together, and live together, there are still parts of our lives that we can go home and vent to each other about."
Outside of class, bowling, and taking care of Suki, both Nick and Rachel are members of the Welcome and Orientation Organizers (WOO) Crew. Nick has become a peer mentor for incoming freshmen on campus and Rachel is involved in Connie Wimer Women's Leadership, Omicron Delta Kappa (ODK), and is a student ambassador.
"At Morningside, everybody knows everybody, whether that be because they are on an athletic team, a part of a club or student organization, or in a class with you." Rachel said. "That was one thing that made Morningside unique."
Who knows where the future will take Nick and Rachel, but the lifelong friends and couple of two and a half years are a shining example of what the Morningside Experience means.