Esports leveling up with first home invitational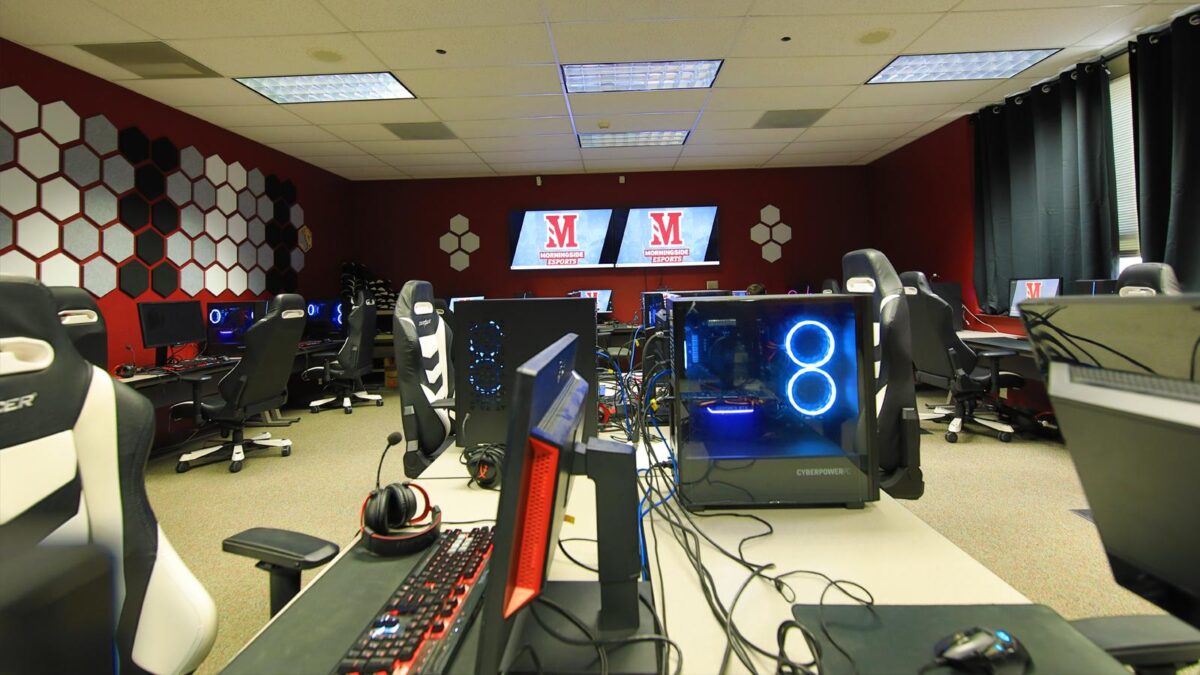 For the first time since becoming part of campus life at Morningside, the esports program is getting the chance to host a home competition in front of a live audience.
Esports Head Coach Jared Amundson and his team are hosting a 17-team tournament at the Seaboard Triumph Foods Expo Center March 10-11, providing an opportunity to gather and play against local competitors while also giving esports a moment in the local spotlight.
"Esports fills the gaps between groups," Amundson said. "These are students who aren't necessarily into singing and dancing, and they may not be athletically gifted enough to go out for a sport, or maybe they just don't want to. This is where they get that competitive interaction and a chance to meet others with a similar interest."
The two-day Morningside Esports Invitational will feature four games being played by the collegiate teams in attendance: Rocket League, Valorant, Overwatch 2, and League of Legends. Each player on the team has a designated game they play during competitions, but some play multiple games in practice as the team gears up for competitions.
This kind of event is far from the first for Morningside Esports. They face teams from all over the country every week. The advantage of video game competition is that the two teams don't need to be in the same room, city, or state to compete against each other.
"There are a lot of individuals who play video games for fun. Offering it as a varsity sport on campus allows those players to come together and play in a competitive environment. These teams are putting in the work and competing at a collegiate level," shared Amundson. "We've played against teams from local colleges, as well as places like UC Davis and Stanford."
In 2022, the Rocket League and Overwatch 2 teams found success in the National Esports Collegiate Conference (NECC). In the spring semester, the Rocket League team won the Great Plains Conference of the NECC and made a national semifinals run in their division. In the fall, Rocket League placed runner-up in the Great Plains Conference and Overwatch 2 placed second in the Midwest Conference.
Amundson shares that an event like the March competition in Sioux City elevates the sense of competition for the Morningside esports team by bringing teams together in the same room instead of simply playing from the Esports Nexus on Morningside's campus. Additionally, the event will be the first of its kind for the Sioux City area. Teams from around the region will compete, including rival Great Plains Athletic Conference schools Briar Cliff and Northwestern.
"With esports, there's no NCAA or NAIA hierarchy established. Having Morningside and Sioux City get behind putting together this tournament is the best way for us to get our name out there and to build connections in the esports industry."
In showcasing the sport, the growing competition, and the increasing number of teams at the collegiate level, Amundson hopes that an event like this will bring more awareness and acceptance for the esports community – especially in the Sioux City area and beyond.
"The good thing about esports and an event like this is that there will be something for everybody. If you like first-person shooting games like Call of Duty, you can watch the college teams play something similar. If you like something a little bit more strategy-based, maybe watch League of Legends. If you're a bit more of a sports fan and are interested in esports, there's Rocket League, which is basically car soccer."
In addition to the main stage competition, there will also be rooms set up for people to play and participate in community tournaments on a variety of consoles, offering games like Super Smash Bros. and Madden. Amundson has also set up a trio of panels for people to attend that are designed to help raise awareness for esports and give community members an opportunity to hear about what Morningside and other higher education institutions are doing with it.
"Esports isn't going anywhere, and this shows students that no matter what your interests are, there is value as long as you're putting time into it in a productive manner."
Morningside Esports will not offer live streaming due to the size of the event. However, Amundson advises anyone interested to follow the team on Twitter @MsideEsports or Twitch, where they live stream their other matches four days a week.
"Hopefully, this will start to normalize esports at a grassroots level in this area. You can see the world championships of any game in sold out stadiums around the world. By bringing a tournament like this to Sioux City, we become part of that world stage and are showing people that you don't have to be in Los Angeles, Berlin, or South Korea to see people gathering to watch an esports event."
Morningside will be playing in all four games at the Morningside Esports Invitational. Group stage play kicks off Friday, March 10 at noon and runs until 8 p.m., then continues on Saturday, March 11 from 9 a.m. to 2 p.m. At 3 p.m., the top four teams from each game will be seeded and the semifinals will commence. The finals for all four games are set to begin at 6 p.m.