Edlund named chief of staff; Lumsden, Treft promoted to VP; additional promotions and title changes announced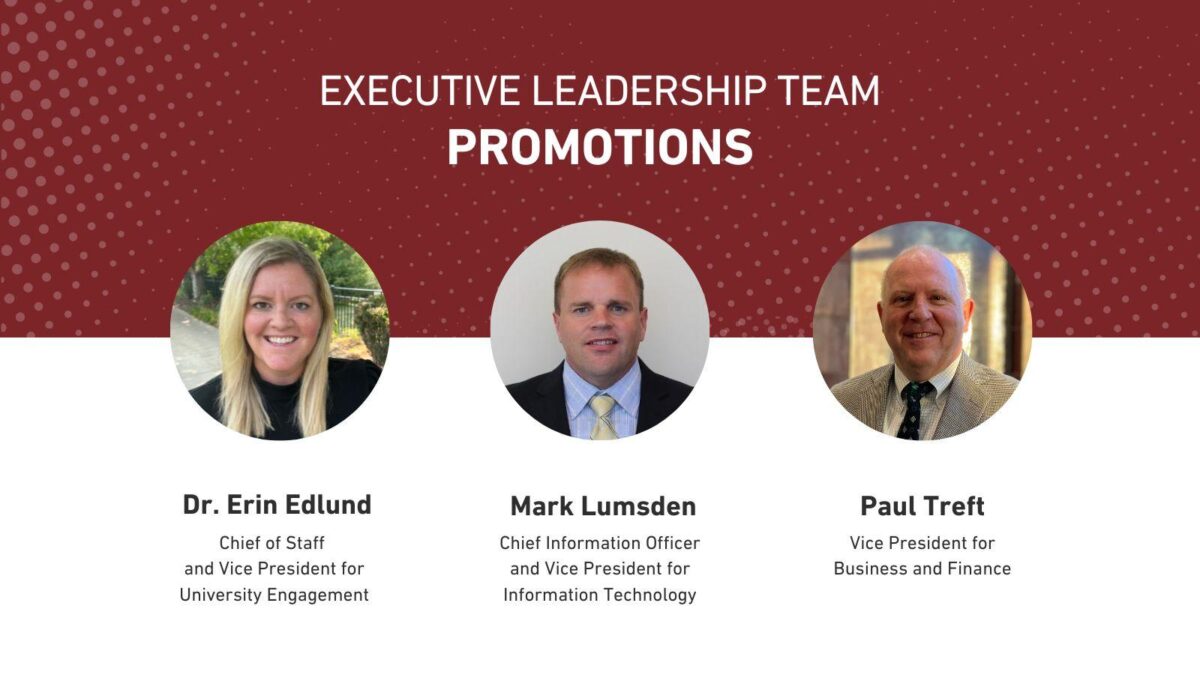 Sioux City, Iowa – Morningside University President Dr. Albert Mosley announced two changes within his executive leadership team.
Dr. Erin Edlund was promoted to chief of staff and vice president for university engagement effective July 15. In this role she works closely with the president on partnerships, planning, and other strategic initiatives and oversees areas including alumni, career services, retention, communication, marketing, social media, the campus print shop and mailroom, and sports information. Edlund has been a vice president at Morningside since 2018 and previously spent 12 years working for the Minnesota State system of 26 colleges and seven state universities, including serving as the marketing director for its system office. Dr. Edlund is a native of Burt, Iowa, where she graduated from Algona High School. She holds a bachelor's degree from Drake University, a master's degree from the University of St. Thomas, and her Ph.D. from the University of Nebraska, Lincoln. She resides in Sergeant Bluff, Iowa, with her husband Jeff and three children.
Mark Lumsden was promoted to chief information officer and vice president for information technology. Lumsden joined the executive leadership team in December and has quickly spearheaded efforts around an overhaul of Morningside's technological infrastructure in addition to managing existing campus technology, the student technology refresh program, and the help desk. Prior to Morningside, Lumsden served as CIO at Briar Cliff University, the Florida Institute of Technology, and Buena Vista University. He worked as an operations manager at Iowa Communications Network, a project manager for the State of Iowa; and was CIO for the City of West Des Moines. Lumsden holds an Associate of Applied Science degree in telecommunications from Iowa Central Community College, a bachelor's degree in business administration from Buena Vista University, and a Master of Business Administration from Drake University. He resides in Sioux City with his wife, Jes.
Paul Treft '84 was promoted to vice president for business and finance where he oversees the business office, physical plant, campus security, and The Mside Store effective June 1. Treft previously spent nearly 23 years as the associate vice president for business services and controller, 11 years as the director of cash management for Metz Baking Company, and four years as an internal auditor for IBP Inc. Treft holds a bachelor's degree from Morningside and a master's degree from Wayne State College. He resides in Sioux City with his wife, Nancy.
Additional title changes and promotions include: Ashley Diediker, associate vice president for business and controller; JJ Marlow '03, associate vice president for institutional advancement; Zach Schroeder, head strength coach; Elizabeth Bohlmann, assistant director of admissions; Katie Koithan, student experience and retention coordinator; and Stacie Hays, associate vice president for careers, success, and life.