Dr. Albert Mosley: A Year One Recap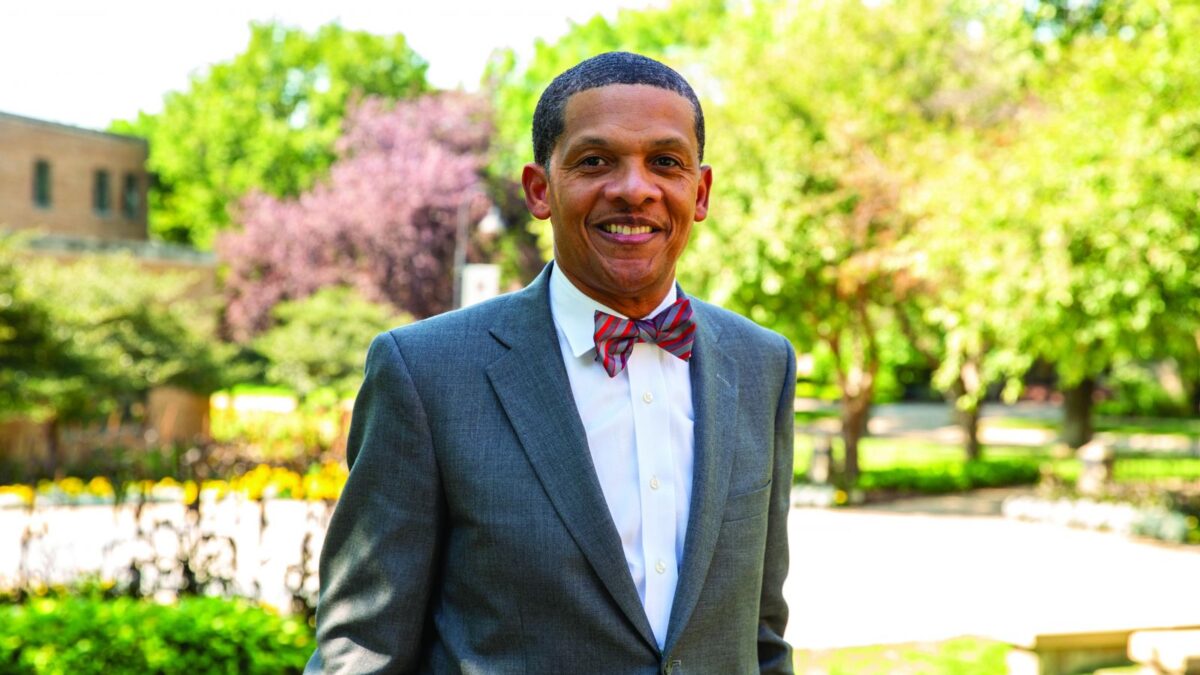 Dr. Albert Mosley officially took on the role of 13th president of Morningside University on July 1, 2022, as the campus welcomed a new president for the first time in 23 years. Dr. Mosley's first year in office has been an exciting time that has highlighted our great past and traditions while also offering new ideas and fresh energy as we have considered our future.
At the beginning of his tenure, Dr. Mosley set five major goal areas for the campus to focus on during his first year, which were to envision signature academic programs, enhance strength and stability, explore engagement opportunities, enrich diversity equity, and inclusion; and engage innovative and creative ideas. The five Es as they became known served as a critical guide during Dr. Mosley's first year, providing the campus community with clear goals to accomplish. During his inauguration celebration held April 19-20, 2023, Dr. Mosley recounted many of the successes resulting from the five Es as he shared his long-term vision around three major areas: Purpose, Promise, and Pride. What follows are some of the highlights from Dr. Mosley's first year, including the inauguration celebration.
Envision Signature Academic Programs
• The Morningside University School of Aviation was officially launched with the announcement that the first class would start in Fall 2023, a year sooner than planned. Aaron Diedrichs was hired as a certified flight instructor who will direct the program.
• Faculty approved three new majors in cybersecurity, supply chain management, and public health that will be offered beginning this fall through a partnership with Rize Education.
• Dr. Vickie Larsen was hired as the first Esther Mackintosh Scholar for the Humanities.
• Dr. Marilyn Eastman helped pilot a noncredit certificate program in digital marketing, as well as a certification prep program (SHRM-CP/SCP) in conjunction with the Society for Human Resource Management. This work will set the stage for an expansion of noncredit certificate programs in the coming academic year.
• Led by Dr. Chris Spicer, provost and vice president for academic affairs, and Dr. Leslie Werden, current president of the Faculty Senate, the campus is wrapping up preparations for its HLC Decennial Review in October.
• Thirteen faculty hires were made in areas including math, humanities, business, agriculture, criminal justice, science, and education.
Enhance Strength and Stability
• Paul Erbes, CFRE, was hired in early 2023 to lead as the vice president for institutional advancement. Erbes is currently leading a pre-campaign feasibility study to prepare for a multi-year comprehensive fundraising campaign.
• Mark Lumsden was hired as the new chief information officer and vice president for information technology. Lumsden will be leading the implementation of new enterprise resource planning and student information systems over the next few years, as well as chairing an IT Task Force that is evaluating these systems and helping prepare for data migration.
• Led by Dr. Tom Paulsen, head of the Regina Roth Applied Agricultural and Food Studies Department a Farmland Task Force was empaneled and completed work to make recommendations regarding the use of 77 acres of land purchased for use by the department. Implementation of the accepted recommendations are now underway.
• Infrastructure improvement projects were completed, including the replacement of HVAC units in Dimmitt Hall, the completion of Reynders Plaza (front entrance), and a remodel of the Lewis Hall lobby.
• Funding was secured to complete a comprehensive facilities/infrastructure assessment to be completed this academic year.
• Led by Terri Curry, vice president for student life and enrollment, and Dr. Erin Edlund, vice president for university engagement, a campus task force on retention was assembled to make recommendations, test specific initiatives related to First Gen students, and to test initiatives designed to help increase the overall retention rate for the institution. The work was successful with the retention rate hitting the intended goal, and a new Strategic Enrollment Management Steering Committee will be stood up this fall to continue the work the task force began.
• Dr. Mosley has been leading work around a rapid strategy strategic planning process, which included him conducted more than 150 visits with business leaders, alumni, faculty, staff, and students to gather information and ideas.
• Women's wrestling was introduced, with more than a dozen students signed on for its first season.
• In addition to new executive leadership team hires, Dr. Mosley also led transitions of the interim vice president for academic affairs being named to the permanent position, transitioned Morningside's new CFO Paul Treft into the position following the retirement of Ron Jorgensen, and promoted Dr. Erin Edlund to serve as chief of staff in addition to her responsibilities as vice president for university engagement.
• Surpassed a fundraising goal of $130,000 for First-Gen scholarships as part of the inauguration celebration for Dr. Mosley.
Explore Engagement Opportunities
• Successfully onboarded Dr. Mosley through numerous feedback and listening sessions, more than 150+ strategic conversations with Siouxland business and community leaders, and reimagining and reinvigorating campus dinners, book clubs, and employee gatherings.
• Hosted an inauguration celebration for Dr. Albert Mosely April 19-20, 2023, featuring the Waitt Lecture presented by Robin Roberts, the Palmer Research Symposium, a student program, an alumni event, and service activities.
• Hosted more than a dozen alumni gatherings across the country, including in Iowa, Washington DC, and Arizona.
• Achieved a target of 100% of students participating in experiential learning activities during the year.
• Affirmed Morningside's commitment to strong outcomes as 99% of 2022 graduates reported becoming employed in their field of study or moving on to graduate school within six months of graduation.
• Continued to carry out our mission of civic responsibility with more than 750 members of the campus community participating in ODK's Into the Streets Event.
Enrich Diversity, Equity, and Inclusion
• The Campus DEI committee continued its work, including championing a campus DEI statement to advance its efforts.
• Completed the HEDS (Higher Education Data Sharing Consortium) Campus Climate Survey with more than one-third of the campus participating. The DEI Committee and campus community are now reviewing the data and making recommendations based on the information gathered.
• Implemented an enrollment initiative called Access to Mside designed to better support low-income families in Iowa and specific cities in Nebraska, and also hired a Latina admissions counselor to help create a more welcoming environment for Latino/a students and families.
Engage Innovative and Creative Ideas
• Established the Morningside Innovation Hour to generate cross-functional ideas and collaborations. Seven ideas were formalized for consideration and two have been selected for funding to be implemented in the coming academic year.
Excerpt from Dr. Albert Mosley's Investiture Service Address
While today's celebration may appear to be about me, it is actually more about Morningside and that ineffable, yet tangible, spirit that prevails in this place. This is an occasion for us to reaffirm those foundational values that have shaped and formed us as a university. It is a time to re-commit to bringing our collective imaginations, talents and diversity of experiences and perspectives to bear in new and innovative ways. This ceremony is about what endures in the spirit of this place, and the work we do here that is greater than us as individuals and more lasting than our moment in time. For those very reasons, we have intentionally chosen as our theme Purpose. Pride. Promise.
Purpose. Pride. Promise. That's what this day is all about. The challenges and opportunities that await us demand that we engage with and impact our world in new ways. Today, I stand humbled, committed and ever-ready to journey alongside you into our bright future. Together, we will continue to foster a love for lifelong learning, ethical leadership and civic responsibility. Together, we will continue to exude that Morningside pride as we climb to higher heights of excellence in academics, the arts, athletics, and service. And finally, together, we will strengthen the Morningside promise of being a responsive and attentive partner in the overall transformation of this community and beyond.