HOST YOUR EVENT AT MORNINGSIDE
A PERFECT VENUE FOR YOUR EVENT
The Morningside University campus offers an ideal location for your meeting, wedding, athletic camp, or conference. Our campus is beautifully landscaped, full of pedestrian walkways, and nestled in the middle of a quiet residential neighborhood just minutes from major shopping and dining areas. We have the facilities to suit almost every need and will work with you to create a successful event.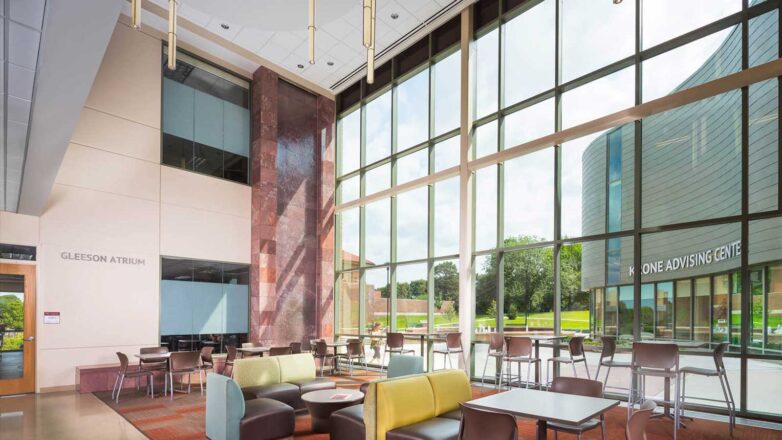 SPECIAL NOTE FOR POLITICAL CAMPAIGNS AND PUBLIC OFFICIALS
Morningside is honored to regularly host campaigns and public officials on campus. If you are an organizer from a campaign or a staff member for a current public official and are interested in hosting an event at Morningside University, please contact Patrick McKinlay, director of the Col. Bud Day Center for Civic Engagement, at 712-274-5361.
FEATURED LOCATIONS
EPPLEY AUDITORIUM
Type: Auditorium
Capacity: 1,400
Discover Eppley Auditorium's historic venue seating and admire its grandeur and architectural beauty as you witness unforgettable live performances. Enjoy the beautiful lobby and cantilevered balcony for relaxation and stunning views.
YOCKEY ROOM
Type: Open Space
Capacity: 175-250
The Yockey Family Community Room is conveniently located in the Olsen Student Center. This room is equipped with hidden technological advancements, such as LCD projector, screen, sound, microphones, as well as hook ups for laptops.
WEIKERT AUDITORIUM
Type: Lecture Space
Capacity: 80
Weikert Auditorium has 40 tables with 2 chairs each. This room has state of the Art AV system with 4 tvs and one white board. The normal set up in Weikert Auditorium is Classroom Pods. The room can be set up Theater Style with chairs in a row and no desks, or it can be set up in Classroom style with desks side by side with 2 chairs per desk, or U shape.
OTHER AVAILABLE FACILITIES AND CONTACT INFORMATION
Our available conferences can sit anywhere from 12 to 200 people. These rooms include wireless internet access and audio, video, and computer equipment.
For larger presentations, consider our auditorium-style lecture halls that seat 150 to 1,200. These spaces also include wireless internet access and audio, video, and computer equipment.
Let us handle lunch. Our dining hall can seat up to 350 people.
Multipurpose activity courts
Locker rooms with saunas
A six-lane, 25-yard indoor pool
Weight training/conditioning rooms
Dance/aerobics room
A three-lane indoor track
An outdoor track and field
Basketball and volleyball courts
Football and soccer field
Softball field
CONTACT
ADDRESSES AND CAMPUS MAP
Central Campus Reservations
(excludes the HJF Learning Center, Hindman-Hobbs Center, and Eppley Auditorium)
Tami Burnett – Business Office Specialist/Central Scheduling Manager
Tami handles the event approval and registration for central campus.
712-274-5175
burnettt@morningside.edu
Hindman-Hobbs HPER Center
Wendy Wilde – Administrative Assistant for Athletics/HPER
Wendy handles all reservations for the HPER Center which includes the basketball courts, track, and swimming pool.
712-274-5192
wilde@morningside.edu
Eppley Auditorium
Heath Weber – Associate Dean for Performing Arts
Heath approves all event reservations for Morningside's Eppley Auditorium which seats up to 1,400 people.
712-274-5514
weberh@morningside.edu
Kristal Grigsby – Administrative Assistant for Performing Arts
Kristal assists Heath Weber for any Eppley Event Reservations.
712-274-5210
grigsbyk@morningside.edu
Hickman-Johnson-Furrow (HJF) Learning Center (Library)
Karen Wascher – Circulation Manager
Karen approves all event reservations at Morningside's HJF Learning Center.
712-274-5245
wascherka@morningside.edu
CATERING SERVICES
SODEXO at Morningside University offers a full range of catering options that range from refreshments and snacks to plated meals with decor, linens, and ice sculptures. If you want carving stations, specialty buffets, themed desserts, or boxed lunches, the chefs will personalize their service to meet your needs.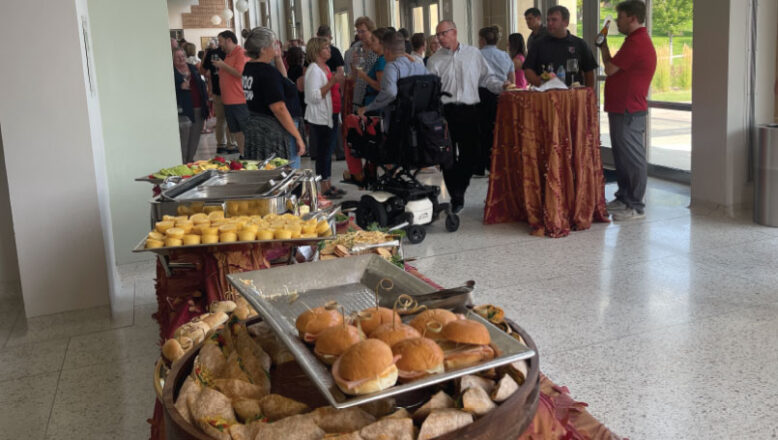 ADDRESSES & CAMPUS MAP
FIND YOUR WAY TO MSIDE
Morningside University is located at 1501 Morningside Ave, Sioux City, IA 51106
The Hindman-Hobbs HPER Center is located at 3501 Peters Ave, Sioux City, IA 51106
The Hickman-Johnson-Furrow Learning Center is located at 1601 Morningside Ave, Sioux City, IA 51106
Eppley Auditorium is located at 3625 Garretson Ave, Sioux City, IA 51106