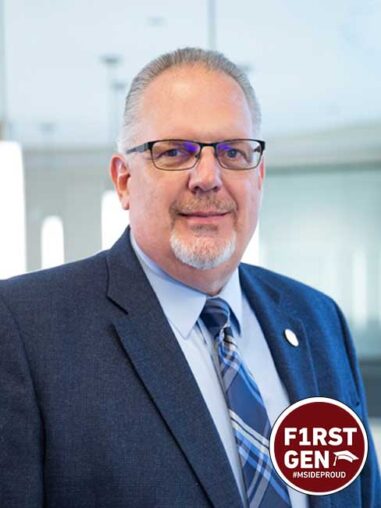 Thomas Paulsen
Applied Agriculture & Food Studies Department Head/Professor
Applied Agriculture & Food Studies
Buhler Rohlfs Hall (BR) 108
Dr. Thomas H. Paulsen is a professor and Department Head of the Applied Agricultural and Food Studies Department.
Background
Paulsen is a First-Generation college student who received a B.S. in Agricultural Education from Northwest Missouri State, 1987; an M.S. in Agricultural Education from Iowa State University in 2001; and Ph.D. in Agricultural Education from Iowa State University in 2011.
Paulsen grew up on a family farm in southwest Iowa near Atlantic, where he was actively involved in 4-H, FFA, football, basketball, and band. He taught and coached at Lynnville-Sully High School from 1987 to 1992 and at Carroll High School from 1992 to 2008 before completing his doctorate at Iowa State University.
Awards and Recognition
Paulsen was recently recognized by Morningside University for excellence in teaching and assessment with the 2022 Sharon Walker Faculty Excellence Award and the William C. Yockey Assessment Award.
Paulsen was previously recognized as the Iowa Teacher of the Year in 2000 and was a Milken National Education Award winner in 2001.  He also received the North American Colleges and Teachers of Agriculture (NACTA) Graduate Student Teaching Award (2011), National Educator Award (2016), and Teaching Scholar Award (2021). He was recognized by the Iowa State University College of Agriculture and Life Sciences with the Early Achievement in Teaching Award (2016) Dr. Paulsen also received the Outstanding Early Career Award by the American Association for Agricultural Education (AAAE) (2016) as well as many secondary teaching awards including the American Vocational Association Outstanding NewVocational Teacher Award in 1992.
Research Focus
Dr. Paulsen's research interest falls within the area of effective teaching and learning practices in the discipline of agriculture—especially in higher education capstone and field experiences—with a primary focus on preservice and in-service teacher education.
Peer-reviewed, Scholarly Works available at:  Google Scholar/Thomas_Paulsen
Belief Statement
I believe Morningside University is well-positioned to become an educational leader in the training of agriculturalists at the state, regional, national, and international levels. I am excited to work with faculty to deliver a well-rounded education that integrates real-world experiences and quality coursework in agriculture that provides our program graduates with a broad view of the world in which they will live and work. Applied Agricultural and Food Studies faculty continuously strive to cultivate within our students a passion for life-long learning and a dedication to ethical leadership and civic responsibility.