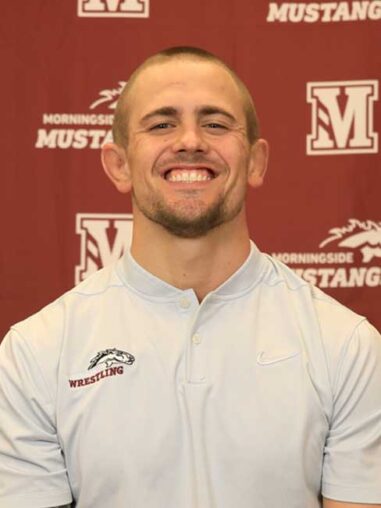 Rulin Pederson
Head Wrestling Coach
Athletics
Hindman-Hobbs Center (HC) 107
712-274-5282 (Office)
712-635-0530 (Cell – SMS/Text Available)
Hometown: Sioux City, IA
Education: Bachelor of Arts – Business Administration, Minor – Sport Management, Morningside College, 2015. Masters – Professional School Counseling, Buena Vista University, 2019.
Recruitment area: Sioux City & Minnesota
What I like about my job:  I enjoy connecting with students and their families during their college search. I find it very rewarding to help in any way possible. The college search can be stressful, I'm here to help! I also enjoy following current Morningside students and all the departments on campus and seeing them accomplish amazing things. Success is contagious, it's not hard to stay motivated being surrounded by so many hardworking individuals!
What I look for in a student: I look for students who are passionate about taking the next step in their educational journey. If a student is looking for a campus with opportunities to help set themselves up for future success, Morningside University is the place to be!
Hobbies: In addition to my Admissions Counselor role, I am also an Assistant Wrestling Coach here on campus. Lucky for me my main hobby, coaching wrestling, is also my job. So, you can find me on campus the majority of the time. However, if I'm not on campus, I'll be hanging out with my wife and family (possibly attending a Morningside event)!