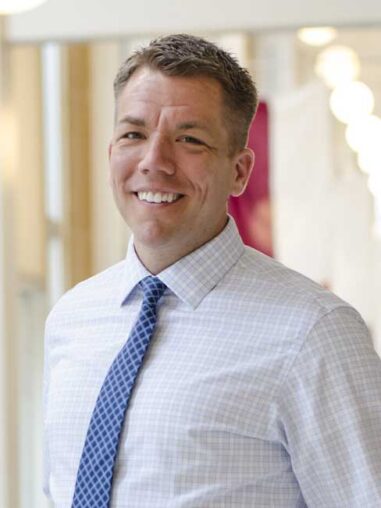 Heath Weber
Dean of School of Visual & Performing Arts
School of Visual & Performing Arts
MacCollin ClassroomBuilding (MC) 200
Heath Weber is Dean of the School of Visual and Performing Arts at Morningside University. At Morningside, Dean Weber is passionate about upholding the University's relentless pursuit of excellence, while advancing performance and artistic expression in The School of Visual and Performing Arts. Of particular importance to the strategic vision of the School of Visual and Performing Arts, Dean Weber is charged with expanding artistic thought, academic excellence and the impact the School of Visual and Performing Arts has on the Morningside community and the greater Sioux City community. During his tenure at Morningside, he has served as Associate Dean for Performing Arts, Music Department Chair, Director of Choral Activities and artistic director for the Betty Ling Tsang Summer Performance Series. Prior to his appointment at Morningside, Heath Weber worked in public school music education at all levels, K-12.
A South Dakota native, he found his home in Sioux City, Iowa, first teaching at East High School for 10 years before assuming his position at Morningside. His comprehensive choral program at East was the largest student organization in Iowa, engaging one third of the student body at EHS. His competitive show choir, The Headliners, was voted one of America's top three favorite show choirs in Parade Magazine's first contest. East was a finalist for the first GRAMMY Signature School Competition; and USA Today named the EHS production of "Joseph and the Amazing Technicolor Dreamcoat" the Best Musical in Iowa in 2008.
Weber is a GRAMMY nominated performer singing with the South Dakota Chorale, an organization for which he has also served as Board President. Additionally, he has performed as a bass/baritone soloist with the South Dakota Symphony, The Sioux City Symphony, Opera South Dakota and Together in Hope Choral Singers. He has been a staff section leader/baritone soloist at Calvary Episcopal Cathedral Choir for over 20 years.
Weber has directed camps for gifted and talented students for nearly three decades. Each year, Morningside University hosts The Catalyst Collective, an immersive experience offering students an opportunity to learn various academic pursuits from Morningside faculty, receive leadership development opportunities and intense performing arts training for high ability youth from all over the country. During these three decades of working with gifted youth, Weber has led groups on 7 global performance tours reaching 5 continents and 24 countries. The most recent tour explored Germany and Austria; previous tours have included Australia, New Zealand, Italy, Spain, Egypt, Greece, The Netherlands and numerous other countries. Groups under his direction have appeared on two occasions at the World Conference on Gifted Children (Sydney, Australia; and The Hague, Netherlands) and were official state guests on a tour to Taiwan (ROC).
His dissertation work in gifted education has earned him appearances at the National Conference on Gifted Children in Minneapolis and numerous state gifted conventions in the upper Midwest. He has made presentations on adapted music education for students with disabilities, and vocal pedagogy and performance based show choir at the Iowa Music Educators convention and the South Dakota Summer ACDA convention. Weber has also made presentations at the North Central ACDA convention on Assessment in the choral classroom. Most recently, his presentations on creativity and team/leadership training have been seen at the Iowa Choral Directors Association Summer Symposium and the South Dakota Summer MEA conference.
As clinician, adjudicator and guest conductor, Weber is in high demand across the nation. His work with summer enrichment opportunities, team building and leadership training keeps his schedule full. When time permits, you can find him soaking up the sun by the lake on lazy summer weekends!