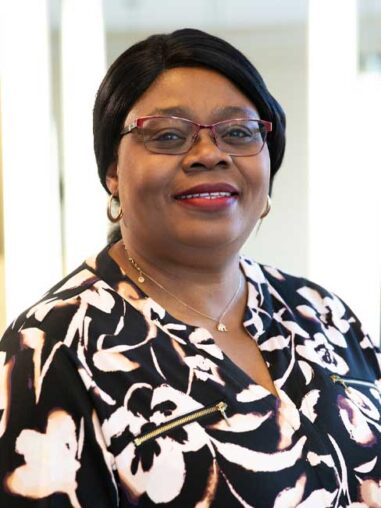 Annie Kinwa-Muzinga
Professor
Applied Agriculture & Food Studies
Buhler Rohlfs Hall (BR) 112
Dr. Annie is a Professor of Agribusiness at Morningside University, Department of Applied Agricultural and Foods Studies. She joined Morningside University in fall 2018.  Dr. Annie previously served as a Professor and Agribusiness Program co-chair for the School of Agriculture at the University of Wisconsin-Platteville, where she had taught since 2002. She earned her B.S. degree in Economics from the University of Kinshasa with a Financial Management emphasis (1988). She also received both her MBA in Finance (1993) and Ph.D. in Agricultural Economics with specialization in Food and Agribusiness Management and Strategic Management with a significant Marketing component from the University of Illinois at Urbana-Champaign (2001).
Upon finishing her education, she joined the University of Wisconsin-Platteville in 2002 where she taught agribusiness courses including Introduction to Agribusiness, Agricultural Finance, World Food, Population, and Resources, and Agricultural Marketing. Her dedication to teaching and efforts to promote diversity awareness earned her many awards.  She was the recipient of the 2005, 2010, 2013, and 2018 Outstanding Faculty Award in the School of Agriculture, the 2010 recipient of the Thomas and Lee Ann Lindahl Teaching Excellence Award at the College of BILSA, and the 2008 UWP Woman of the Year Award.  The University of Wisconsin System recognized her as the 2015 UW System Alliant Energy Underkolfer Excellence in Teaching Award, the 2008 UW System Outstanding Woman of Color in Education Award and 2007-2008 Wisconsin Teaching Fellow.  At regional level, Dr. Annie received also the 2011 AASCARR Distinguished Educator Award.
Dr. Annie has advised, mentored, and coached a significant number of students.  Because of her dedication to students' growth and learning, she received the 2015 BILSA outstanding advisor and the 2017 Recipient of the DR. John B. Riley Outstanding Advisor, National Agri-Marketing Association (NAMA). It is worth noting that Dr. Annie advised the Pioneer NAMA for 14 years at UWP. Currently she has been co-advising the Morningside NAMA chapter for 2 years.
Dr. Annie has numerous publications pertaining to teaching and scholarships.  Her research interests cover a broad array of projects related to agriculture as well as scholarship of teaching including service learning projects for women in agriculture, scholarship of teaching and learning, and agricultural growth and development. Her most read publication is on Gender Assessment of the Agricultural Sector: The Case of the Democratic Republic of Congo. This research was in collaboration with the International Food Policy Research Institute (IFPRI).
Besides dedicating time to UW-Platteville, Dr. Annie is also very family-oriented, being married with three children. Her husband Dr. Lawrence Muzinga is an Associate Professor at Morningside University.  She is an active advocate of diversity in Sioux land where she is the Vice-president of the Siouxland African Association.