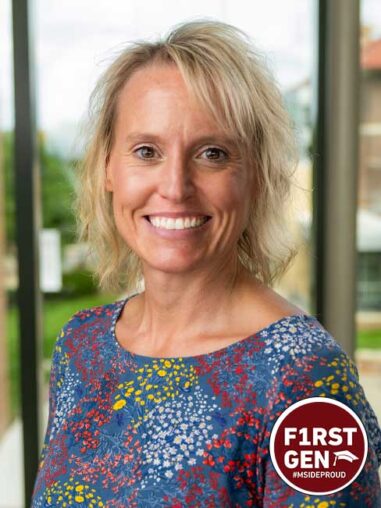 Amy Williams-Malenosky
Senior Associate Director of Admissions
Admissions
Lewis Hall (LH) 114
712-274-5552 (Office)
712-635-0506 (Cell – SMS/Text Available)
Hometown: Nemaha, Iowa
Education: Bachelor of Arts in business administration and corporate communications, Morningside College, 1998
Recruitment Area: All International students. Transfer students from 4-year and 2-year colleges; college graduates seeking a second degree or second major or an initial teaching certificate; students seeking re-admission to Morningside.
What I like about my job: The community at Morningside is what makes this place special. Being able to work with students as they come from a foreign country or just down the road at another college, helping them see that when they choose Morningside, they too are now part of this amazing community of faculty, staff and students! The process can be scary as they seek their next step in their education, but Morningside welcomes them with a variety of ways to step right in and feel connected.
What I look for in a student: I look for students that are excited about college and all of the opportunities for learning and growth that Morningside has to offer them!
Hobbies: My favorite hobby is chasing my son to all of his activities. As he enters high school you will find me sitting on the bleachers watching him play basketball and baseball! I am also a workout fanatic – I love health and fitness!